---
---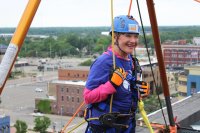 Campus Life is asking you to go Over The Edge and join us in our mission to provide more staff, to serve more teenagers, in more high schools, middle schools and juvenile detention facilities throughout the Greater Lansing area. Register here to join the fun and make a difference in your community! 
By becoming an "Edger" you are agreeing to raise a minimum of $1000 for Campus Life in order to rappel off of the Capital Hall building in Downtown Lansing. 
Throughout this process we will provide you will all the tips, tools, and fundraising support to not only reach your fundraising goals, but surpass them. After registering, you will receive a personal fundraising link to share with friends and family, along with an online fundraising toolkit and ongoing support.