---
---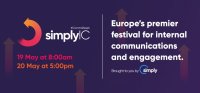 simplyIC is Europe's premier festival for internal communication and the digital workplace.
Taking place over two days, you'll have access to best practices, case studies and the opportunity to network – giving your entire team the opportunity come together, learn, seek support and network and develop your knowledge and skills.
As we work towards a 'cautious, but optimistic' post-pandemic working world, let us build on what we've learnt over the last 12 months to transform and propel our comms into a new era.
It's time to reflect, review and reset.
It's time for a #CommsReset
That's not all!
Our two-day event is usually at an exceptional value of £95+VAT but due to the ongoing pandemic, we want to give back to our community and offer an exclusive chance of letting you decide what you want to pay to attend this event! This is a one-time offer as we will return to full price next year, so don't miss out on this golden opportunity to be part of the biggest internal communications event this spring.
Please note: The amount shown on tickets is only a recommendation, please put your desired amount in the price box.
All VAT is inclusive of purchase.
Thank you and see you there!

The simply team