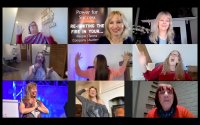 Stand in Your Light "Igniting your inner fire"
This women's empowerment event in celebration of International Women's Day.
You can be certain of a full on day of INSPIRATION, MOTIVATION, SELF DISCOVERY to fuel your hope, clarity and direction.
Be prepared for a immersive, interactive and lively day, all designed to give you effective tools to unlock your clarity, remove the blocks and feel empowered to shape your life as you'd love it to be.
So imagine for one day your screen is a theatre stage ... and each speaker is here JUST FOR YOU ... as they've walked right into your room and stepped into your heart..taking hold of your hand into your mind of limitless possibility. THIS IS WHAT WE HAVE CREATED FOR YOU!
In these uncertain times, we need fuel for our minds, body and soul to lift us to beliefs of possibility and limitless potential.... These could be considered easy to write words, but trust me each of your speakers today have walked their talk, earned their stripes then mastered their expertise.
The I Choose Life Foundation is the events chosen Charity www.ichooselifefoundation.com
Lisa Clifford - Your Show Host
Stand in Your Light
I will take great care through this event, there are plenty of breaks to keep you hydrated and fresh.
10.00 - 10.30 Stand in Your Light with Lisa Clifford 
10.30 - 11.15 5 Steps to Change Your Life with Cindy Galvin
11.30 - 12.15 Shine on Line with Rebecca Mason
12.30 - 1.15 The Truth Will Set You Free with Sarah Kekoa
1.15 - 2.00 Lunch Break
2.00 - 2.45 Show Up AND Shine with Harriet Bratt
3.00 - 4.00 KundaDance with Lindsey Stewart
4.15 - 5.00 The wound is where the light enters - Rumi with Lis Cashin
5.15 0 6.00 It's never too late to ACT UP with Christine Mclean
7.30 - 8.00 Peggy Dylan
8.00 8.20 Networking
8.20 - 9.00 Panal 
Love Lisa xxx