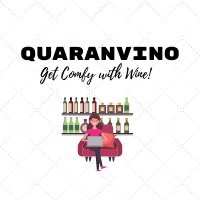 Do you enjoy wine and wish you knew more about it? 
Choosing wine can be overwhelming. Other than the price tag or pretty label how are you sure you're not going to spend money on a bottle you don't like? How can you understand what you like in a wine to make better choices or explain your likes and dislikes? How can you be part of conversations with "people who know about wine" when there are so many technical terms?
We devised Get Comfy with Wine 4-week course to do just that : give people who love wine the chance to ask all the questions they ever had about wine and come away more confident in their wine choices.
Our course is lead by Faye, AIS qualified sommelier and WSET-level 3 holder, and Irene, AIS Sommelier and wine & food editor. Together they present the 4 evenings in a relaxed and fun way. Each session focuses covers the essentials you need to know and includes a tasting of two labels of high-quality Italian wine. 

EVENING 1 - THE BASICS : April 15th. 8pm CET

What IS wine? The where and how
What am I tasting and smelling?
Wine vocabulary 
The do's and don't of serving wine  
EVENING 2 - NAVIGATING WINE : April 22nd, 8pm CET

Appellations and Grape Varieties 
New World V Old World - what does that mean? 
Let's get you out of the wine rut!
How do I select wines in supermarkets or restaurants? 
EVENING 3 - SPARKLING & SWEET WINES : April 29th, 8pm CET

How do the bubbles get there and what that means when you're buying wine
Do Sulphites give me headaches? 
Storing wine - when and how long for 
EVENING 4 - FOOD & WINE PAIRINGS : May 6th, 8pm CET

Food and wine pairing
Understanding the label 
How to match wine with food
We host Get Comfy with Wine on Zoom so there's no need to leave the house. We also limit the group size so there's no scrolling through pages and pages of screens and everyone feel at ease asking their questions. Audio recordings of the sessions along with the presentation material will be provided allowing you to catch up at your own pace if you miss any sessions.

We'll talk about both wines during the sessions and give you tips on how to store them to make sure they are still drinkable over the following few days. We'll also send you recipes to pair with each so you can turn Get Comfy into a weekly food and wine date. 

Ticket includes:
Access to all 4 evening events, recordings & materials
8 Bottles of high-quality Italian wine 
Free Shipment within Germany 
Recipe suggestions for each label
10% discount voucher to purchase more of the wines you like
Wines can be shipped across the EU (except Sweden, Finland & Ireland) for a small supplement. Please choose this option when booking your tickets. We'll send you a tracking number as soon as your wines are shipped. 
Want to participate without the wine? 
If you live in a place we can't get the wines to (UK, Sweden, Finland, Switzerland, Rep. Ireland) we also have an "evenings only" ticket where you'll get access to the evenings and the materials. We'll provide you with a list of wines so that you can source them locally. 
Get together with friends!

At Quaranvino we believe wine is best enjoyed with friends. Our online dinner dates have become popular because we bring people together to enjoy wine and socialise after the events - even with friends that live in different cities and countries. If you have friends that would also love these evenings, we can set up a chatroom so you can carry on your evening once the "lesson" is over. Just let us know when you sign up who you know and we'll do the rest! 
Reviews from our previous participants: 

"This course was thoroughly enjoyable, it was relaxed and informative and you could take as much or as little as you wanted. It was well worth the money and encouraged me to try new wines. It also made it OK to drink not the most expensive wine, or to not like something and made you understand why!" (Participant, Feb 2021) 

"Choosing wine in a wine store I would pick out bottles that looked expensive and classic but I found the choice just overwhelming. Get Comfy was fun and easy. The entire session was a no judgment zone and it was great to enjoy it from the comfort of home. I also loved learning about how some wines could taste like, just by reading the varieties and appellations which makes buying wine a lot easier and less risky. I'm now more adventurous in drinking and buying wine and I am enjoying wine more! I discovered wines on the course that I wouldn't have picked myself and loved them!" Louise G
"Get Comfy with Wine is a very relaxed way to learn the basic principles of wines and wine making. I now don't feel so apprehensive about selecting wines to buy. Thank you Faye and Irene!" (Participant, Feb 2021).

"Wine menus in restaurants meant very little to me beyond the wines I knew well and I was very reluctant to experiment. Choosing wines when entertaining friends was a challenge as well and I tended to stick to the favourites or resort to google! Get Comfy offered the opportunity to learn all the basics and much more in a relaxed and fun environment combining a learning experience with a good night "out". Faye and Irene are passionate about wines but without pretentiousness or snobbery. On our recent trip away, I asked for the wine menu and for the first time ever, recognised many of the grape varieties listed. I felt confident that I understood what I was looking at as opposed to drawing a complete blank. I've even started experimenting with wines in restaurants that I would never have gone for in the past - success! We enjoy wine more than ever with good food and are no longer intimidated by wine lists or overwhelmed by a shelf full of wine bottles!"  Rachel P. 

About Faye & Irene 
Faye Cardwell - Founder and Quaranvino Moderator
Faye has been working with Italian wineries since 2004 when she started a job organising wine exhibitions in Asia whilst living in Verona. Soon after she got the wine bug, studied her Italian Sommelier certification (AIS) and WSET levels 2 and 3 went from being almost tea-total to converted wine-lover.
Her day job involves organising wine events for regions and consortiums, taking sommelier and press to Italy to explore the vineyards at first hand, and organising dinners for wine lovers in Munich. 
She never says "no" to champagne and believes every wine is perfect with the right company, food and setting. She founded Quaranvino in March 2020 as a way to bring the experience of having dinner with a wine-maker to winelovers across Europe during Lockdown. 
Irene de Vette - Quaranvino Moderator
Irene de Vette is a writer, editor and sommelier based in Rotterdam, the Netherlands. Just like Faye's, Irene's journey into wine started in Italy. Living in Rome, she was writing about the country's food and culture, so wine inevitably became a love affair.
She completed the sommelier course at the Associazione Italiana Sommelier (AIS), and continues writing about wine culture around the world. She has published several (cook)books, including a book on Dutch wine, Discovering Dutch Wine (2015). Her day jobs also include developing recipes, working as a culinary consultant, and hosting tastings.

EARLY BIRD TICKETS
We have released a limited number of Early Bird tickets for our course with wine tickets. These offer access to the course at a discounted rate only! Grab yours today!
BUYING FOR A PRESENT? 

Do you know someone who would love to get Comfy with Wine? Fill in the order form with your email (to receive proof of payment) and their delivery address. Drop us a line and let us know the email of the person who you would like to send the wines to so that they'll receive all the communications throughout the course.  We'll update the order on our systems as necessary! 

Refund Policy
If you can't make it to any of the evenings, you still have access to the recordings and materials. If you have any questions about any of the wines, just ask us during the next session. If you really need to cancel your order, please let us know ASAP. We can refund you if the wines haven't already left the depot! If you want to cancel after that, you will need to ship the wines back to the supplier at your own cost.