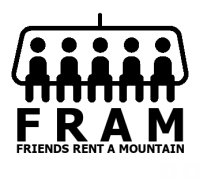 SAVE THE DATE FOR OUR FAVORITE DAY OF THE YEAR RETURNING IN 2022!
2/28/2022. MORE INFO TO COME SOON. LAST YEAR'S INFO BELOW (when we were #blessed and somehow snuck it in right before COVID).
THIS WILL BE #5. WE KNOW, RIGHT? WE'RE PSYCHED. IF YOU'VE NEVER BEEN, IT'S LIKE SUMMER CAMP ON SNOW 👍❄️🙌⛷🏂🏔

ADD TO CALENDAR (so you remember to take off from work)
We'll make spots available in December 2021. If you want to make sure you get the announcement email and don't get sold out, drop your email here and we'll get you on the friendlist.
 
~~~
What's Friends Rent a Mountain?

We rent this old-school gem-of-a-ski-mountain for the day -- way before the NYT article made it cool. The lifts, the lodge, the whole thing, just for us. Last year we were too distracted by all the fresh snow to remember to take video (whoops), but here are the video montages for FRAM 2018 and FRAM 2017.

The whole thing feels a bit magical. Everyone you bump into on a chairlift or in the lodge is a friend of a friend who's just excited to be there too. Instead of a normal Monday in March, you're at a Winter-y summer camp. Every year we have beginners who learn to ski or board for the 1st or 2nd time (the instructors are world-class), and more experienced folks who ride a party wave with their pals right under the main lift.

And the mountain? It has plenty of character. Plattekill is fiercely independent & family-owned, with a rustic base lodge that's barely changed since the 80s. The mountain has quirky New England style trails, and 1,100ft of vertical. Plenty of gentle meandering green circle trails through nature for beginners, with a surprising array of steeps and trees for those who seek it. 
All ~3hrs from NYC, so you can easily be there and back in a day.

What's new in 2020?
GAMES. Games on games on games. We're not fully sure what this means yet, but we've been collecting ideas and brainstorming all sorts of ways to make this year's FRAM the most fun yet. ps: if you know any good winter games that the people would like, send a note!
A BETTER SYSTEM FOR LUNCH + DRINKS: In the past, everyone got a $12 lunch voucher & two beer tickets. But this year, if you like, you can trade your drink tix for more food, or your food voucher for more drinks. Freedom for the people. Enjoy.
APRES IS EXTENDED: We used to have a mad rush to leave right at 6pm, and had to cut Apres Ski a little short. But because of some new DOT regulations, we need to get our bus drivers a hotel room. But the good news is we can leave the mountain a half-hour later...
First-Timer or Beginner?
Never skied or snowboarded before? We can't think of a better day to try it. Each year we have lots of first-timers, and we always make sure they have a great day. The mountain offers super affordable rental & lesson packages (with a certified instructor to help you get the basics down). We can answer all your questions beforehand, there will be plenty of other first-timers to learn with, and if all else fails, it's still a party + a day off work.
Signup Options

There are three signup options.
• Standard Signup (with Bus) | $109 | This is our most popular option, but sells out quick
Includes: Lift ticket to our private mountain, $12 lunch voucher, first 2 beers on us (which you can trade for more food money if you like), Après-Ski Games & Festivities, Round-Trip Coach Bus from LI or NYC (bus snacks, waters, & driver tip included)

• "Drive Yourself" Skier/Snowboarder | $69 | We want to encourage more drive-ups this year; driving up Sunday afternoon w/ your crew is a great move
Includes: Lift ticket to our private mountain, $12 lunch voucher, first 2 beers on us (which you can trade for more food money if you like), Après-Ski Games & Festivities
• "Drive Yourself" Hanging Out (no Skiing/Riding) | $49
Includes: $12 lunch voucher, first 2 beers on us (which you can trade for more food money if you like), Après-Ski Games & Festivities. The lodge has wifi and is a heck of a place to work for a morning

Prices increase January 25th since it gets more expensive the closer we get. So if you're in, commit sooner rather than later. Seats on the bus have always sold out.
We don't make money off this event (pretty much the opposite), and know skiing/snowboarding can be expensive... so we work hard to keep this as affordable for our friends as possible. Keep in mind that a lift ticket alone at Windham Mountain next door is $98 (and $140 if you take a bus from NYC). 
FAQ
Q: What if I don't have skis or a snowboard? 
A: You can get them at the mountain for $32 (paid to the mountain directly when you get there).
Q: What if I'm a first-timer or a beginner? 
A: The mountain offers a "Learn to ski/snowboard package" that includes rental equipment + helmet AND a beginner group lesson with a professional instructor for $55 (again, paid directly to the mountain when you arrive)
Q: What if I don't have a car? 
A: We have busses! The Long Island Bus departs 200 Jericho Quadrangle (near exit 41) at 5am. The NYC bus departs 200 W 39th St (near 7th Ave) at 6am.
Q: What if I buy a ticket but then can't go? 
A: It happens, and we try to be as reasonable as possible. We'll do full refunds (less a $5 processing fee) so long as you contact us on or before 2/17/2020, two weeks before the trip so we still have time to fill your spot. 50% refunds if you contact us by 2/24/2020, one week before. Within a week, unfortunately we cannot do refunds because everything is already paid for (but you're more than welcome to find someone to take your place; it's a relatively easy sell!).
Q: Can I invite friends? 
A: Of course; FRAM is open to anyone. That said, if you're reading this right now, it's because someone else said you're good people. 🙏 So we're not trying to invite everyone we've ever met; just nice, friendly people who you think would really love being a part of this.
Q: Why are prices a couple bucks higher than last year? 
A: Oy, you noticed? Costs were raised on us a bit, both from Plattekill and from the bus company. Due to some new DOT regulations, we need to get the drivers a hotel room during the day
Q: Can I ask other questions? 
A: Of course, email us at friendsrentaskimountain@gmail.com