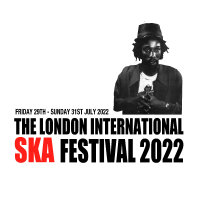 The world famous London International Ska Festival returns
Thursday 28th - Saturday 31st July 2022
for the biggest celebration of ska, rocksteady, reggae, 2 Tone & beyond the capital has seen!

First artists announced;
Big Youth, The Pioneers, Dennis Alcapone, Freddie Notes, Dave Barker, Susan Cadogan, Roddy Radiation & The Skabilly Rebels, Christopher Ellis, Marla Brown, The Co-operators starring  Joe Yorke, Perkie & Kitma, The Bandulus, The Loving Paupers, Zen Baseballbat, Subsetters.  Plus DJs; Phil Bush Sounds & Pressure lo-fi valve sound system, Tighten Up crew, Time Tunnel, Grace of Spades, Naoko The Rock, Texas Ranger, Paddy M, Miss Gemini, and Heidi Ellis.  Many more tba!
All tickets for LISF2020 remain valid.
Wristband tickets for LISF 2022 are onsale now.  They get you into all the major events of the festival including the Dixie Queen paddles steamer cruise starring The Pioneers and save £40+.