---
---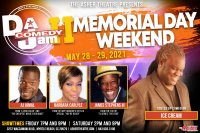 2021 Comedy Jam All-Star Show: Memorial Day Blockbuster Show 3-Day Event!
Our past DefComedy Jam lineups have included not one, not two, not three, but four Def Comedy Jam all-stars featuring J Anthony Brown from the Tom Joyner and the Steve Harvey Morning Show, Chucky Ducky Quack Quack, Alonzo "Hamburger" Jones, and from the Fox hit TV Series, "Martin" Bruh Man Fruon Da Fif Flo and of course, the Asher's own Def Comedy Jam all-star, The Man of a Thousand Voices, James Stephens III.
The 2021 Line-up will be announced soon so check back often!
Get your tickets for this incredible Memorial Day Weekend Special.
Buy your tickets now. Seating is limited!!!