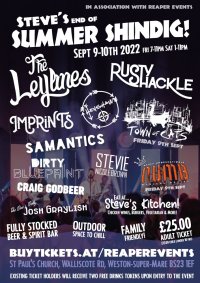 We are finally there!

Due to ever increasing demands and paperwork requests from the council and police, we have exhausted all options for a party in a field but we don't want to cancel or postpone again.. so we present to you...

Steve's (end of) Summer Shindig!

After the last few years we have finally managed to pull together an event that we are super excited about. Whilst things are getting tougher, we do hope you'll come and join us at The End of the Summer Shindig hosted at the wonderful St Pauls Church in Weston-super-Mare.  A beautiful venue with lots of open space outside, a fully stocked bar, plenty of parking and acoustics to die for!

You'll enjoy great music over the Friday night and all day Saturday as part of your ticket entry. For those who bought a ticket for last year's event, please see the ticket prices listing to see what, as an existing ticket holder, you'll receive as a thank you for holding onto your tickets and options for those with a camping/live in vehicle ticket.

Steve will also be preparing lots of delicious locally sourced food including his signature chicken wings, burgers of all sizes and description and a great selection of vegetarian food at Steve's Kitchen served through the day!

Artists performing include:

The Leylines
The Leylines are a west-country based group with a genre-defying, violin & guitar driven sound that ranges from folk & indie to full blown festival rock.  Founded in 2013 by a group of musicians combining their individual musical styles into something that isn't quite folk, sort of punk but 100% heart-pounding revelry. This unique sound (combined with lyrics ranging from social issues, life on the road and partying with friends) launched the band into the heart of the UK live music community and made them firm favourites of the festival circuit.
Rusty Shackle
Rusty Shackle are a Monmouthshire based folk rock band formed in Caldicot in early 2010. They are a six-piece group made up of band members Liam Collins, Mathew Barwick, George Barrell, Ryan Williams and brothers Scott McKeon and James McKeon.

Town of Cats
Town of Cats are an ever-mutating municipality of musical misfits, grown in Brighton's grubby and fertile Petri dish. To hear them is to be transported by the transformative power of the best parties. The ones that set fire to your zero-hour contract and remind you that change, real change, can come from the most ordinary of places.

Samantics
Samantics is a one man machine of honesty, energy, words and noise. Using lyrics to portray his own unique vision of the world we're all wandering, he speaks and shrieks from the centre of his erratic heart. Using a trolley full of sounds, including ukulele, bass, beats, piano, harmonies, blips and bloops and more, all brought together with loop station and sampler to create a hot pot of powerful, noisy poetry. It's not quite hip-hop, but it's not quite not.

Imprints
Imprints are a Shanty-Folk-Rock cider fuelled explosion from Bristol. With songs covering everything from Space Pirates to Zelda's political leanings, from the undead partying to waking up drunk and doing it all over again, Imprints will guarantee foot-stomping fun and the mightiest and fieriest of jigs.
N.U.M.B. Never Underestimate Musical Belief
South West based Urban Reggae/Hip Hop band. 4 albums, over 900 live shows, sponsored by FAITH GUITARS and THTC Clothing, support for Arrested Development, Peter Andre, Mica Paris, Finley Quaye, Zion Train, Dreadzone, Frank Turner, Dub Pistols, Akala, as seen/heard on BBC Radio Devon, Exe FM, Phonic FM, Glastonbury Festival, Beachbreak Live Festival, 02 Wireless Festival, Watchet Festival, Secret Garden Party, etc.

Henshaw
HENSHAW has spent a good deal of the last few years knocking lumps out of his guitar and singing passionately about life and his own experiences. He tours relentlessly across the UK, Europe and has played as far afield as the USA, Canada, China and Taiwan.

Dirty Blueprint
4 piece Blues-Rock band based in Somerset/Devon. Playing original music with a few adapted covers thrown in!

Stevie Nicole Brown
A wonderfully talented young singer songwriter who also does some amazing mash-ups of some popular modern songs.

Craig Godbeer
Craig is a local talent from Weston-super-Mare who's original song writing is catchy but written from the heart.

The One & Only Josh Graylish
A promising but experienced young Musician and Song Writer from Weston-super-Mare. A regular around the local circuit with an ever growing following.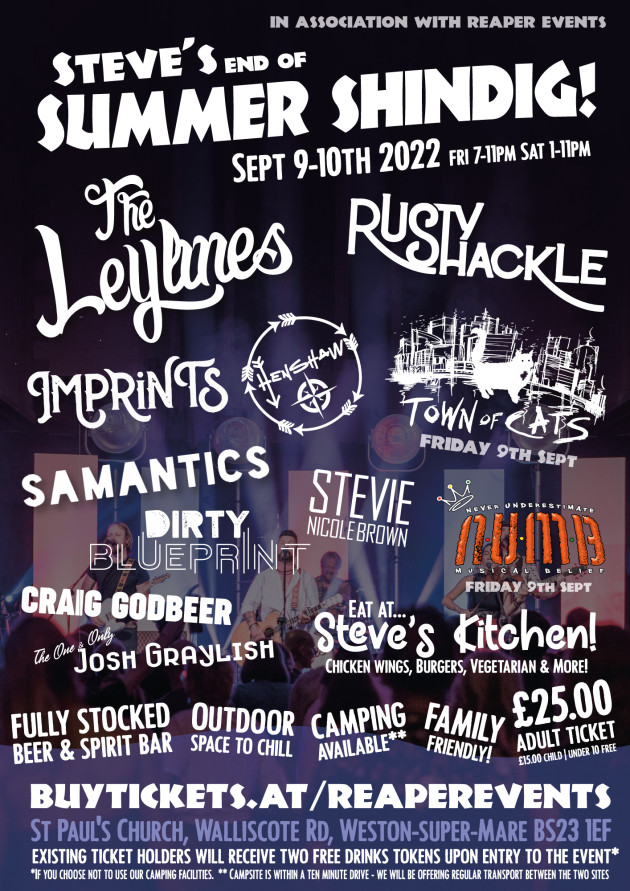 New Customer Ticket Prices:
FRIDAY & SATURDAY
Adult General Admission £25.00 per person 
Child General Admission (10-16yrs old) £15.00 per person - can only be purchased with an adult ticket
Young Child General Admission (0-10 yrs old) FREE per person - can only be purchased with an adult ticket

Camping Options (Sept 2022)
We have a campsite available within a 10 minute drive of the venue for you to bring your tent/live in vehicle - it has good onsite toilet facilities but no hook up or showers.  We will be running a minibus shuttle service between the two locations before, during and after the event to get you to and from the venue on Friday and Saturday.

The cost for this will be £10 per person per night

Existing Ticket Holders
Your existing tickets will entitle you to the following:
Adult General Admission - Two free drinks at the bar*
Child General Admission (10-16yrs old) - Two free non-alcoholic drinks at the bar*
Camping/Live in Vehicle Ticket - Can be exchanged for three drinks*/two items from the food menu or used 

If anyone would like a refund for their camping/Live in Vehicle tickets, please ensure this is requested for before 31st August as refunds for this will not be available after this date.

'Challenge 25' will be in place at the bar. It is YOUR responsibility to prove your age. 

*Single measure with mixer/pint of lager/cider or non alcoholic/coffee/tea etc.