---
---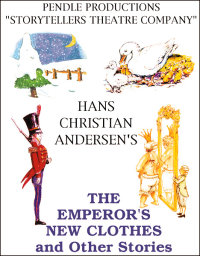 THE EMPEROR'S NEW CLOTHES AND OTHER STORIES

'The Little Fir Tree' is the first of our four Hans Christian Andersen stories. Why does the tree wish to be tall? Then there's 'The Tinder Box' with all the colourful characters you could ever wish for and what of 'The Ugly Duckling'? A story that has lasted the test of time. Our adventure through Andersen's tales is finished by 'The Emperor's New Clothes', a comic end to this wonderful musical performance.
Performances near the Miniature Railway Buildings (follow signs for Worden Hall.)
Tickets: £7.50
3 Person Family Ticket: £15
4 Person Family Ticket: £20
5 Person Family Ticket: £25
6 Person Family Ticket : £30
Children aged 2 and under - Free of Charge
Don't forget your picnic, something to sit on! (Outdoor Performances)
Please Note: NO SEATING IS PROVIDED AT THIS EVENT. Chairs are permitted in designated areas. Please allow time to walk from the car park to the performance area. Don't forget the performances are outside! Have a great day!