---
---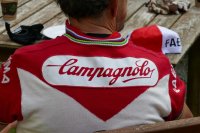 Velo Retro The Friendly Festival of the English Lake District

Velo Retro is ready for its 9th year but 8th edition after the loss of 2020. It is now established as the foremost retro cycling festival in the North.
For 2022 we move to Ford Park. This is where we ran the first edition in 2014. We've now outgrown our in-town site (although there will still be events in the town) and we're moving to a bigger, more flexible space. We're really excited about the prospect!
Based in the small and very lovely market town of Ulverston, for 2022 the festival will take on the form of a traditional, English fete. There's no fence, it's mostly free and there are no big corporate sponsors – Velo Retro is the authentic, friendly, welcoming event - the friendly festival; where people arrive as strangers and leave as friends!

For more event details, go to: Velo Retro Web