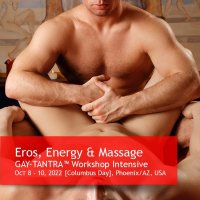 Please join me for the Eros, Energy, Massage & GAY-TANTRA Workshop Intensive on Indigenous People Day Weekend 2022. It will provide you with new and fascinating possibilities to develop your sexual potential and to expand into new areas of experience - in which trust, love, awareness, acceptance and empathy converge - to let our body limits melt and let us become ONE!
Take this simple quiz:
Is your sexual potential fully developed?
Does sexual pleasure take you into realms of experience that make you feel profoundly happy, creative and alive?
Can your sexual aura be part of your combined private and vocational daily life?
If you answer only one of these three questions with uncertainty or 'no', The Eros, Energy, Massage & GAY-TANTRA Workshop Intensive is just the program to open up new horizons for you!
Course and contents:
Through body awareness, relaxation, movement and playful encounter you will develop and gain self-confidence and cultivate a sense of ease with the all other men who comprise the workshop group...
Active meditations in silence and bodily expression will introduce you to the daily topics...
Rituals make it possible for you to release your limits and blockages of false guilt, sense of shame and sense of indebtedness. This will enable you to indulge in unintentional pleasure and limitless joy...
You will learn the Multiple-Orgasmic Genital Stimulation Massage and will experience on a first-hand basis multiple, complete-physical orgasms...
During the 'Bonding Wave' you will learn to connect more deeply with yourself and a chosen partner through breathing, visualization and the channeling of sexual energy...
In addition, presentations and discussions will help you to integrate your experiences during the workshop intensive with your everyday life at home, providing ideas for post-seminar practice and the ongoing inclusion and integration of GAY-TANTRA in your daily routine!
This workshop is suitable for you:
If you want to discover your body and sexuality in a new way...
If you want to be a more liberated person...
If you want to experience ecstatic sexuality...
If you want to further develop your sexual life...
If you want to connect sexuality with spirituality!
Preparatory and Accompanying Media
First time participants will receive Armin Heining's GAY-TANTRA™ Educational Film 'The Multiple-Orgasmic Genital-Massage' (running time about 50 minutes) and other Bonus Films for Download to allow you to maximize what you will learn and take home from the workshop intensive (all films together value about USD 35)!
Additionally books and DVDs can be bought during the workshop at the spot.
Organizational Details

Venue
Camp Joy Ranch, 37448 N. 14th St, Phoenix, AZ 85086, USA

Camp Joy Ranch is located in Phoenix, Arizona, just north of the Carefree Highway, about 40-minutes drive from downtown and Sky Harbor Airport.

Schedule
The workshop begins on Saturday, Oct 8, 2022 at 10 am and ends on Monday, Oct 10, 2022 at 7 pm. The individual days usually start at 10 am lasting until 1.30 pm, followed by a lunch break. The afternoon sessions will start at about 3.15 pm with an open end at about 8 pm.
Accommodation/Meals
You are responsible for your own accommodation. You may stay at home or in a hotel. You might want to bring your own food or eat out in a restaurant nearby.

Participation fee
The fee for the GAY-TANTRA Workshop Intensive amounts USD 595, payable in one amount or - on request - in two instalments (50 per cent on the date of the written enrolment; 50 per cent one month prior to the beginning). Please contact us via E-Mail! This fee covers all costs for seminar hours and materials.

The following reductions are possible:
» (-10%) Smart Saver Ticket: For registrations until August 10, 2022.
» (-15%) Underemployed Ticket: For Students/Underemployed Persons
» (-30%) GAY-TANTRA Fellow Ticket: Participants having visited the Workshop Intensive or longer lasting GAY-TANTRA Classic/Ecstatic seminar workshops