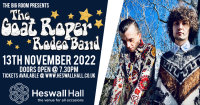 With just two old guitars and a bucketful of aching harmony, THE GOAT ROPER RODEO BAND are preaching 'Cosmic Country Blues' like you never heard…
From a lonesome shack in the North Wales hills, Jim and Sam have honed their craft on a diet of country classics and down home roots records over the past decade, culminating in their own brand of trippy yet soulful acoustic blues.
It's up, it's down, it's soft and loud, it's dark and lonesome too, there's hurt and shame and some mean old pain but there's love in what they do!
There's a hint of Gram, a sniff of Dylan and a twist of Waylon's blues … Simply put, it's exactly what it says on the tin.
The events of the past year have allowed the duo to concentrate on what matters... song.
Back in the saddle with an arsenal of new material and a desire to get back out on the open road, The Goat Roper Rodeo Band are ready to hit new heights in 2021/22!
"Like the Everlys fronted by Gram Parsons" - Fatea

"Amazing" - Bob Harris

"The Goat Ropers are the real deal ! I was blown away when I first saw them play and heard them harmonise, I wanted desperately to join in. If there's any justice in this crazy world, they'll soon be a household name and we'll all be keeping it country with them" - Romeo Stodart - The Magic Numbers

"The Goat Roper Rodeo Band take a slightly psychedelic route to the finish line and include some serious footstompin' rock 'n' roll along the way, Mix in a little gospel fire and a sprinkle of Gram and these boys ruled our last afternoon" - Spiral Earth

------------------------------------------------------------------------------------------

Important event information:
As of writing (15/03/21) the relaxing of restrictions by the UK Government means that show should not fall under social distancing restrictions. However, as the situation is very fluid and it's impossible to know what restrictions may be in place in November 2021 customers should be aware that changes may have to take place to this event's set up.
As above seating will be 'open' and customers will be allocated seating with other customer UNLESS seating restrictions are put into place by UK Government eg single household.
Social distancing will be enforced throughout the venue where required.
All tickets must be purchased in advance. 
There will be no cash sales at the venue.
Any audience members who have COVID-19 symptoms, live with those with symptoms or who have been advised by NHS Test And Trace to self-isolate, must not attend the event.
The lead booker on all transactions will be listed as the contact for NHS Track And Trace. Contact details will be held for a maximum of 28 days.
Temperature checks will be taken before entering the venue.
The wearing of masks maybe required by all attendees dependent on UK Government restrictions in November 2021.We will be operating a table service for the ordering of drinks and/or food if UK Government restrictions require this to be so. Please use the QR codes provided at your table.
Tables will be seated as per the rule of 6.For those customers choosing the set meal option the menus will be sent out no later later than one month before the event. Customer's choices for their meal MUST be returned to the venue at minimum one week before the event.
There will be multiple hand sanitising stations in position around the venue, and we encourage regular use of these.
All toilets, high usage areas and surfaces will be fully disinfected before and after each event. Plus work surfaces will be disinfected regularly during each event.
**Covid-19**
In the circumstance where this show cannot take place due to national and/or local restrictions the show will be postponed until a later date. ALL tickets will remain valid.