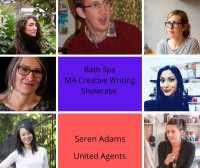 Dynamic and diverse speakers share their thoughts and experiences of Bath Spa's MA Creative Writing Course, and talk about their writing careers after study. All of the speakers and hosts attended the MA in Creative Writing at Bath Spa University.
Panel discussion
Authors talk about their writing careers and publication successes
Debut Author: Karla Neblett. Her debut novel, King of Rabbits is out in March 2021 and is the lead title for William Heinemann and book of the month for Afrori Books.
Established Author: Nathan Filer writes fiction and non-fiction. The Shock of the Fall won the Costa Book of the Year, the Betty Trask Prize, the National Book Award for Popular Fiction and the Writers' Guild Award for Best First Novel. His latest book, This Book Will Change Your Mind About Mental Health was a Sunday Times Book of the Year. Nathan is a senior lecturer at Bath Spa
Poet: Vik Shirley is a Forward Prize nominated poet whose chapbook, Corpses, was published by Sublunary Editions in 2020. Her collection, The Continued Closure of the Blue Door, was published by HVTN Press early 2021 and her photo-poetry collection, Disrupted Blue and other poems on Polaroid, is forthcoming with Hesterglock Press. She is currently studying for a PhD in Dark Humour and the Surreal at the University of Birmingham.
Host: Grace Palmer has been published in Magma, flash fiction ezines and by Comma Press. She teaches creative writing and is editor of the Transnational Literature Journal. She is the director of Novel Nights
Panel Discussion

Featuring alumni with careers associated with writing and publishing
Literary Agent: Seren Adams is a literary agent at United Agents. Prior to joining the agency she worked at Granta and Foyles. As well as assisting Anna Webber, she is actively building her own list and loves reading excellent short fiction, unconventional literary novels, and compelling narrative non-fiction.

Literary Consultancy: Aki Schilz is a writer, editor and poet, and is the Director of The Literary Consultancy, the UK's first and leading editorial consultancy for writers.
Writing facilitator, mentor & business owner: Alison Powell is a writer, writing mentor and workshop facilitator. Her business, WriteClub is now five years old. Her first novel was long-listed for the Mslexia New Novel award, shortlisted for the Janklow & Nesbit Prize and won runner-up place in the Bridport Prize for First Novels.
Host: Emma Smith-Barton is a novelist. Her YA debut, The Million Pieces of Neena Gill was shortlisted for the Waterstones Children's Book Prize 2020, the Branford Boase Award and the Romantic Novelists' Association Debut Romantic Novel Award. She is a mentor for write-mentor.com
This event is sponsored by Bath Spa University and will be of interest to students considering an MA in Creative Writing at Bath Spa University