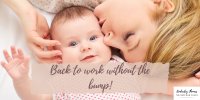 After a period of maternity leave returning to work can feel daunting. Just as you are getting into the swing of new motherhood going back to work can be a major change to you, your baby and your family.
Many women struggle to reconnect to their working identity and may be concerned about what they have missed during maternity leave and worried about how they will get back up to speed whilst continuing to care for their children.
Join me for an online group coaching session designed to get you ready, willing and able to hit the ground running when you return to work following maternity leave.
We'll cover:
1) Practical considerations (childcare, continuing breast feeding, flexi working requests/ options etc.)
2) Emotional considerations (preparing yourself & your baby, reconnecting to your working identity, continuing to grow your relationship with baby)
3) Going back to work at home (boundaries, flexibility, structure)
And everything in between. These are lovely, supportive sessions free of judgement.
No-one will tell you what to do, rather I'll listen and ask questions to give you the space to make the right decisions for you and your family as you transition back to the work place.
There is also the optional opportunity to build connections with the other women on your workshop to create a support network going forward as you navigate your first months back at work.
Places are limited to just 6 to ensure everyone gets time to discuss & reflect.