---
---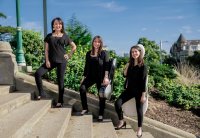 Please join Berkeley Chamber Performances in our next Couch and Cocktail Concert. We will be welcoming Bay Area favorites the Curium Trio to our virtual stage.
Agnieszka Peszko, violin
Carlyn Kessler, cello
Rachel Kim, piano
CURIUM: the 96th element in the periodic table. Discovered in the Bay Area in 1944 and named after the pioneering female scientist, Marie Curie, the element is a symbol of the innovations of female minds, past and present.  Founded in 2017, the Curium piano trio has gained a reputation as performers that radiate dynamism and presence. The Curium trio highlights the works of women composers alongside traditional piano trio repertoire.

Ludwig van Beethoven:  Piano Trio in G Major, Op. 1, No. 2 (1795)
Clara Schumann:  Piano Trio (1846)
Germaine Tailleferre:  Piano Trio (1916, revised 1978)

We will send the link to the concert to ticket holders 24 hours in advance.