---
---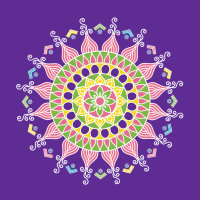 Steady & comfortable: This 2 hour practice is influenced by Patañjali's sutra (2:46) "Posture should be steady and comfortable". 
We may automatically associate the sutra with a more movement based practice than the stillness we create in Restorative yoga. I feel that the breath is steady and the body comfortable in Restorative practice.  Join me and see what your individual experience is. 
Restorative Yoga - A practice that allows the body to pause, to rest and recharge. 2 hours to indulge in time for you to rest, well needed as we navigate "the new normal" as we slowly ease towards the lifting of lockdown.

We honour B.K.S Iyengar for both his creation of the props and devising the slow grounded practice which restored yogis after a period of ill health.
Using bolsters, blankets, and blocks to aid your relaxation, the restorative practice facilitates the calm space needed to shift your nervous system from "fight or flight" into a relaxation response, Sympathetic to Parasympathetic nervous system.
Restorative yoga postures are mostly supine and are held for up to 20 mins allowing you to reconnect with your breath whilst being fully supported by the props. The practice increases your well-being as the calming and safe environment lifts your mood, contributing to stress relief allowing you to feel a true sense of relaxation.
No previous yoga experience is necessary to benefit from the Restorative practice.