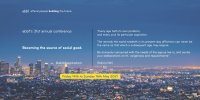 Every person has its aspirations and every time has its challenges.
You and your organization are looking for people, ideas, a better understanding of how to be part of the change that is necessary, to increase your impact and reach. 
ABOUT EBBF EVENTS
"The energy, hope that comes from deep questions, interactions with people determined to fulfil their role of meaningful impact through the organizations where they work is unique. I leave every ebbf event with a fresh new understanding of what is possible and what is needed for my organization to be truly successful today and how I can be part of building the future we seek to create."
We invite leaders, explorers from around the world to live an ebbf learning experience to understand that relation and to identify how we and our organizations can have the impact that this age requires and  influence unleashing our huge potential.

ebbf has been refining for over 30 years the art of interactive events. Action-oriented individuals and their rich diversity of questions, views and ideas are brought together in deep and meaningful conversations that lead to fresh new energy and volition for action.
During this three-day event, you will feel part of a community of diverse yet like-minded leaders, exploring together your roles, understanding the reality that surrounds you, the needs of this age, the desire to create meaningful impact and together choose a path forward.
Mind-opening speakers will inspire you through their experiences and nurtured interactions between participants open new possibilities.
________________________________________________________________________________
At ebbf events PARTICIPANTS rather than SPEAKERS are the FOCUS OF ACTIVITY because of the insightful level of people who attend.
We have however invited a number of inspiring individuals to share their ideas and spark our exploration.
First confirmed speakers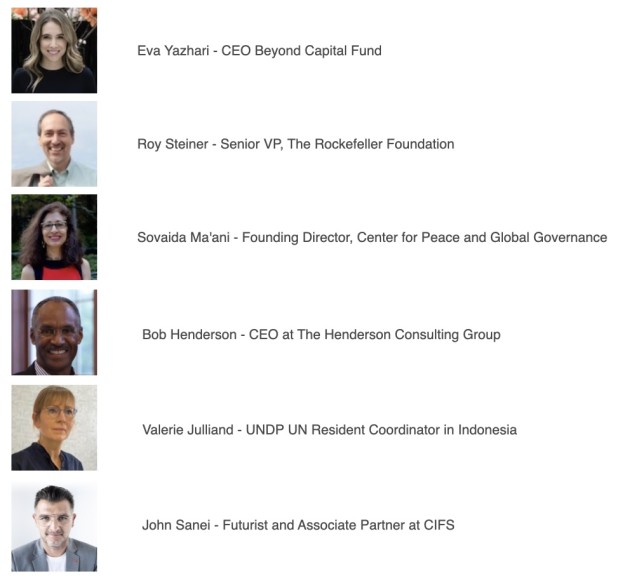 ________________________________________________________________________________
PROGRAM FLOW (all times in European CEST)
FRIDAY 14th May 2021
UNDERSTANDING THE PRESENT

16:00 to 18:00  (CEST)
Opening and the power of one, multiplied by the uniting power of many.
"Every soul has its aspiration"
We start the event by sharing personal aspirations that we aim to achieve through our workplaces.
We start with the power of one: I can do this , I have done this, hearing and sharing what we are trying to achieve and achieving in these complex times.
Then we connect with others around us, we explore how accompaniment is strengthening our resolve and impact.
Then we connect with the wider reality "my team / my company / society".

We are individuals, we seek to understand and be a part of the reality that surrounds us and of the needs that are part of this age.
Identifying what unites us as individuals, what creates the best groups and communities with whom an understanding of priorities and actions can progress in our every day work.

19:00 to 21:00 (CEST)
What are we seeing and sensing in the world right now?
Inequalities, racial debate, this and much more is what is happening at the moment.
But what is driving and causing racial inequality, gender injustice, climate disaster etc.?
And what is giving me / us hope ?
________________________________________________________________________________


SATURDAY 15th May 2021
SENSING THE FUTURE

16:00 to 18:00 (CEST)
"Those who journey in the garden land of knowledge, because they see the end in the beginning, see peace in war and friendliness in anger..." Seven Valleys, Baha'u'llah.

We position ourselves in the future, a future where the SDGs have been achieved, the desired outcomes have been reached.
What does that look like?
We want to describe the details of that reality, to understand exactly what is necessary today to build that future.
That scenario is not impossible, it has been done before e.g. electric cars ridiculed for so long are now the cool car to drive, smoking in public places normal 20 years ago is now unacceptable, polio has been eradicated...
We will look at scenarios of the future and identify what will make them possible.

19:00 to 21:00 (CEST)
What do we already have in place to build that future?
What seeds are already been sowed that can get us into that direction.
What are the inspirations of people, economic systems, organizations already moving forward in the right direction?


________________________________________________________________________________


SUNDAY 16th May 2021
BUILDING THE FUTURE
16:00 to 18:00 (CEST)
How can my and my company's actions connect now, to building that future?
What can we do? Who are the best partners to identify to accelerate our shift?
What is the attitude and the mindset that works best to create social change?
How do I keep up the attitude and the volition by understanding and resisting the pressures we face?

19:00 to 21:00 (CEST)
Closing - We circle back to opening of the event, to the power of unity, the power of one , the reciprocity, of working as a community.
Feeling of accomplishment bringing together what we learnt, building the volition to continue on our path of meaningful impact, together with the new insights and new human partnerships we have created in these days and will continue on the event's platform.