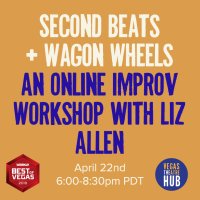 The vast openness of second beats can be overwhelming. After feeling relieved and happy that great first beats just happened, often teams freeze up or become overly enthusiastic about attacking second beats. Liz believes second beats deserve focus in a workshop because they are literally and figuratively the center of any form. They are a platform for patterns, solidifying tone and expanding characters. A lot of the time, second beats unfold without inspiration or understanding, and this locks up a long-form. In this workshop, Liz shares her techniques, including the wagon wheel way of thinking, for approaching approach second beats and their influence on a form.
ABOUT LIZ ALLEN
For the past 28 years, Liz Allen has performed, coached, and directed improv.
She performed with iO Chicago's Frank Booth, taking the first-ever long-form to the Edinburgh Fringe Festival in 1995. She ran the iO Chicago Theater's Training Center for 3 years, and in 1999, 2000 & 2001, she won the Del Close Coach of the Year Award at iO, renamed the Liz Allen Excellence in Teaching Award.
At the iO Chicago, Liz has taught Levels 1 thru Advanced Harold, directed The Family Affair, which performed at the Edinburgh Fringe Festival in August 2019, and completed the final round of online classes for iO Chicago, before it closed in 2020.
Liz coached the iO's teams Valhalla, Fatty Four Eyes and Mission Improvable (founders of the Westside Comedy Theater in LA), and the Improv Shop's Putty and Daddy Long Legs teams in St. Louis, via Skype. She directed Devolution (written by Sean Benjamin) at The Neofuturarium, and directed a main stage revue for The Second City at the Flamingo Hotel & Casino. The Vegas Theater Hub awarded Liz Best Guest Speaker of the Year and Best Workshop of the Year 2015.
Liz was honored to coach The Commune, the improv ensemble in Mike Birbiglia's 2016 feature film Don't Think Twice.
She's taught hundreds of corporate workshops over the years, and these days travels to far corners of the globe teaching improv online.