---
---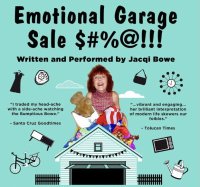 Jacqi Bowe opens the garage doors of her whimsical mind in her solo show, in which everything must go, and invites the audience to witness her wrestle with her junk. This clutter nut vows she is moving on and throwing out those tattered slippers AND worn out mythologies. The big trend these days is watching Tidying Up with Marie Kondo. Bowe reminds us that as we downsize to be careful of what you dump. One person's dysfuntionality is another person's charm.
The show has played all over California and Las Vegas to rave reviews and enthusiastic audiences and is a proud participant in The Whitefire Theatre's SoloFest 2020, the largest solo festival on the West Coast., eighty shows in ninety days.
"...vibrant and engaging...a talented individual bursting with ideas..her brilliant interpretation of modern life skewers our foibles."
-Tolucan Times
"I exchanged my head-ache for a side-ache watching the bumptious Bowe"-
-Good Times