---
---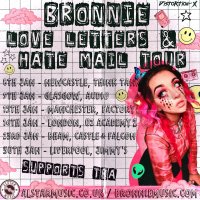 Alstar Music and Distortion X presents - Bronnie Love Letters and Hate Mail Tour Manchester.
Show Times:
1pm - VIP only
2pm - Main doors (entry for both Standard & M&G ticket holders)
4:15pm (approx) - Show ends
4:20pm (approx) - 6pm - M&G
6pm - Curfew
Ticket prices:
£30 - VIP (includes Early Entry, VIP Lanyard, Acoustic soundcheck and pre show M&G with Bronnie and all artists)
£20 - M&G (includes a photo after the show, plus your ticket into the show)
£10 - Standard (entry only into the show)
Age limit: This is a 8+ show under 12s need to be with an adult.
All tickets include entry into the show. If a parent/guardian is attending the show with you, they will need a STANDARD ticket only.
LOCATION
Manchester Factory.
Ticket prices
Vip £30
M&G £20
Standard £10.