---
---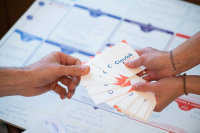 What if we (re)designed a circular business model?
The evolution of our modes of production, consumption or communication requires a change in the economic activities in place since the industrial revolution. It requires a shift from an economy of extraction and consumption to an economy of valorization and use. It also requires a different way of thinking about value creation and innovation.
That's why we have designed a series of workshops that use collective intelligence and simple, reusable tools to transform linear products and services into regenerative business models.
With this online demo workshop, we invite you to experience the dynamics of collective intelligence through a 1.5 hour simulation based on a fictive business case. By using the Circular Canvas and playing cards with your team, you will be able to take up the challenge and propose the best solution withcircular economy principles.
Program:
7:00 pm (Taipei Time) : welcome and introduction to the circular economy and the Circulab toolbox.
7:30pm (Taipei Time) : online creativity workshop
9:00 pm (Taipei Time) : end of the workshop
Reservation required.