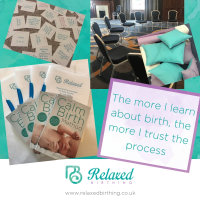 1 Day Group Hypnobirthing Course with Relaxed Birthing (at this venue there will be a maximum of 3 couples on the course to allow for correct social distancing). Please read the COVID-19 client information and declaration sheets before booking - available here. Please note this document may be updated to reflect any changes in government restrictions and a new copy will be sent to you.
During your hypnobirthing course you and your birth partner will learn:
The mind-body connection – how fear can increase pain and slow the course of labour and how hypnosis can assist in releasing fear, increasing your confidence and trust in your ability to give birth
Hormones – learn what helps, and what hinders, labour hormones
Relaxation – including visualisation and affirmations
Breathing techniques for labour and birth
How to cope with the unexpected – how to keep calm and in control no matter what circumstances arise
Practical techniques including positions, massage, using a birthing ball, aromatherapy, and how to make the most of your birth environment.
How your birth partner can support you brilliantly during labour
You will also receive:
The Calm Birth School Hypnobirthing Book
MP3 hypnobirthing tracks to support your practice during pregnancy and for use in labour
Birth affirmation cards (worth £10.50)
Plus:
2 hour private 1-2-1 session after the course in your own home. This can be tailored to your needs – refresher or hypnobirthing techniques, specific scripts or even postnatal topics and babycare (please note that mileage charge may be required depending upon your location).
Email and phone support from me following your course through till your early days with your newborn
Gift voucher for a free newborn photo shoot with Julia Taylor Photography
Terms and Conditions and Cancellation Policy for Group Hypnobirthing Classes with Relaxed Birthing
A one-day group hypnobirthing group with Relaxed Birthing costs £205 for a pregnant person with/without birth partner.
You are required to read the COVID-19 Client information sheet and declaration before booking the course. Each course attendee will be required to sign a copy of the COVID-19 declaration on arrival for the course - available to view here.
If the group course is booked (paid in full) and subsequently cancelled in writing or by email by the client, refunds will be supplied as follows:
30+ calendar days before the course begins: 75% refund
29-15 calendar days: 50% refund
14 calendar days or less or "no show": 0% refund
If securing your place with a deposit of £50 this is non-refundable.
By booking this in-person course you accept that should the COVID-19 restrictions change or a local lockdown be put in place, and it becomes no longer possible for the course to go ahead in person, that the course will move to an online format and your course materials will be sent to you.
In the event of a premature birth or personal tragedy requests for a refund will be considered on an individual basis. An administration charge of £30 will be made to cover expenses.
Your book and resources will be available for collection from your class. In order to gain access to your MP3 tracks you will need to register your email address with The Calm Birth School.