---
---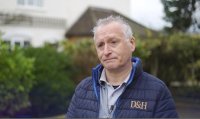 We've been keeping it under wraps but we can now reveal that the second episode of the BHS Masters' Series is now live! Looking to improve your lateral work? Well here's your chance as we joined Richard Davison FBHS, four-time Olympian and European medallist for his 'lateral learning' masterclass.
Looking to get more out of your lateral work or just starting your 'sideways' journey?
Richard's training, explanations and tips will ensure you and your horse learn the basics the right way from the beginning. Think lateral work is just for dressage riders? Then think again as Richard shows how it can improve every aspect of your horse's performance from hacking out to shaving off seconds in the jump off.
We are also delighted to announce that two more episodes of the BHS Masters' Series together with a Q&A discussion with the stars of the programmes will be going live over the next few months. You can either choose to buy a ticket for Richard's episode or access exclusive viewing of the other episodes as soon as they go live. Why not buy the full package we know you won't be disappointed!