---
---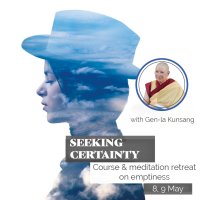 Teachings and Retreat on the Path to Wisdom
Wisdom begins in doubt. It is better to ask questions than be certain about something that is wrong. But we need to know the right questions – what is mistaken and what is true in my life? Do I have firm foundations or is my life built on illusions and false hopes?
Buddha says our root problem is that we simply make the wrong assumptions about how we, others and everything in our world exist. It is that basic. We think we are right when we are hopelessly wrong. And we keep getting it wrong. That much we do know - as our problems tell us every day. The beauty of Buddha's wisdom is that just by hearing the right questions we can start getting it right. We begin to sense different possibilities. Life can improve, problems can weaken, we can live more lightly.
Gen-la Kunsang will introduce Buddha's wisdom - called emptiness teachings - and how we can begin to lift the clouds of confusion from our minds. We will ask such questions as who do we think we are? What do we find when we look for our self? What is the real nature of our body? And how do things actually exist? The answers have great practical application for our lives. Genla will also guide a retreat on Sunday to help us get a taste for this special wisdom.