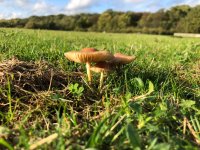 The privately owned Hunstanton Park, is famed for its association with author P G Wodehouse, the creator of the much-loved Jeeves and Wooster characters. Within the parkland is woodland, waterways, pasture, and even ancient walled gardens, in which a range of species to discover can be found. 
The parkland is located on outskirts of the coastal town of Hunstanton and offers a wonderful place to learn about edible plants and mushrooms growing in the UK. 
This foraging course walk is easy to reach from Norwich, Fakenham, Sandringham, King's Lynn, Cromer, Swaffham, Thetford and Great Yarmouth.

At Hunstanton Park, you will discover how to identify some commonly growing foods to forage for, how to avoid poisonous lookalikes, and hints on where to look.
The course includes: 
- an overview of foraging laws and safety best practice 
- exploration of the venue introduction to a number of edible species 
- instruction on how to tell edible species apart from poisonous lookalikes 
- tips on harvesting 
- information on where to find these species again 
- recipe ideas 
- wild food treats to sample 
- digital information sheet sent after the course 
Samples of tasty wild food treats can include soups, pestos, salts, pickles, syrups, cordials, jams, jellies, leathers, vinegars, and preserves. All are either 100% plant/fungi-based or have a 100% plant/fungi-based alternative.
Participants must be aged 18 or over - sorry, no children under 18 or babes in arms on this course.
Unfortunately, dogs are not permitted on the course.
Exact meet-up location and further information sent two days before the course date.  

Please note that this course involves lots of walking over varying terrain, as well as standing while discussing species.

Terms and conditions can be found on www.foragingcoursecompany.co.uk

We cannot guarantee what species will be growing on any given course date. Springtime and summer courses should be predominantly plant focused, with mushrooms sometimes found. Summer courses may also have fruits and flowers to learn about, with some mushrooms. Autumn courses are should be more mushroom-focused than spring or summer courses.