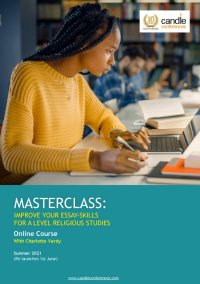 A Level Religious Studies is not easy! Not only are students expected to get to grips with a huge amount of detailed, challenging content in short order, but they are also expected to make academic judgments, advance and defend scholarly arguments in response to all aspects of that content. Even when they know and understand the material, many students struggle to write good essays, and this stands in the way of them achieving C+ grades. Many students ask...
Is there a "right way" of writing an A Level essay?
What actually is an essay beyond being an extended piece of writing?
What is the most effective way to structure an essay in the exam?
This online course, aimed at students moving from Year 12 into Year 13, answers these questions and aims to support students in improving their essay skills for A level Religious Studies.
Students can work through the course at their own pace. Each student receives their own login details, which provide access to the course from 1st June until the new academic year begins in September 2021. Each of the 10 video-units lasts around 20 minutes, but comes with a range of practical activities to complete. In total the course will take at least 4 hours to complete and concludes with a "theory-test", the results of which can be certificated.
TO BOOK
Access to Masterclass from 1st June 2021 until 10th September 2021 costs £10 per student.  
Please note that student access includes access the the secure page of our website and the recorded sessions for the specified period only, plus permission to download, print and use the course resources for that student only.  This price does not include any rights to share or transfer access, or to photocopy, distribute or sell the resources to others, in whole or in part. Teachers should not purchase one student access and attempt to use it for a whole class, but rather each student should have their own access. 

BLOCK BOOKING DISCOUNT
Schools booking 10+ students qualify for a 20% block-booking discount (reducing the price to £8 per student), which can be redeemed 
1) by e-mailing info@candleconferences.com for the access-code, which each student must enter when they make their booking individually, through this site.
2)  by e-mailing info@candleconferences.com with a list of the student e-mails to be given access and requesting an invoice (if your school requires a Purchase Order Number please quote this as well).  Once the invoice has been paid, we will send out access-links to the students listed.