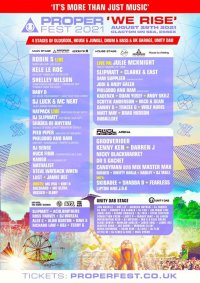 Proper Fest will be a 1 day experience for everyone, taking place on the 29th August 2021, Bank Holiday weekend. The festival will combine the best talent from the UK and worldwide, while also providing a platform to up-and-coming, local artists.
Featuring the likes of Robin S preforming live with her hit 'Show Me Love' | Kele le roc performing My Love | Baby D preforming live with her hit 'Let Me Be Your Fantasy' | DJ Luck & MC Neat | Ratpack | Shades of Rhythm | Nicky Blackmarket | Slipmatt | Dj Pied Piper | Philgood & Ram | Julie MCKnight | Brandon Block & Alex P | Sam Supplier | Soul Avengers | Dolly Rockers | Nico | Boys at Work and many more on the day......
Get ready for live music taking place over three large stages, fun fair, Shisha lounge, Cuisine from across the world, Four bars, VIP Secret garden area host by OldSkoll Ibiza & InsPirAdo, Quasar park, Bouncy castles, HD face painting and a high-end state of the art production from start to finish.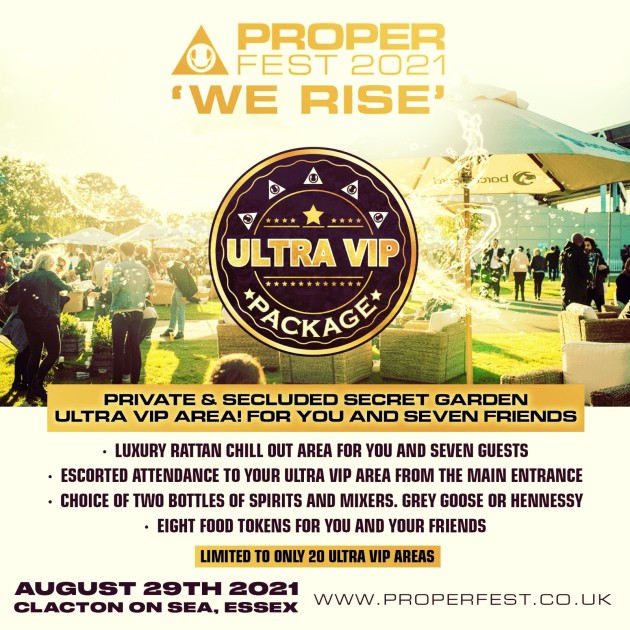 ULTRA VIP IS LIMITED TO 20 GROUPS OF SEVEN PEOPLE + YOU, The price for the ultimate VIP for you and your friends is priced at £949.00
Ultra-VIP Access for you plus seven friends, Your own dedicated seating area in the secret garden area, Table service, Drinks Package, Food Tokens.
ULTRA VIP QUE JUMP & HOSTESS
To fast track your entry to Proper Fest, all VIP + customers will be greeted on arrival by our hostess team and escorted directly to the VIP area, saving your time to focus on partying!
ULTRA VIP SEATING
For you and your seven guests you will have your very own seating area within the secret garden for you to use as a base and explore the festival at your leisure.
Please note this is restricted to 20 groups only and is on a first come first served basis.
ULTRA VIP POSH TOILETS
An added facility to the VIP area will be posh toilets to make sure your festival experience is as pleasant as possible.
ULTRA VIP TABLE SERVICE HOSTESS
A member from our hostess team will be on hand throughout the show to ensure you don't have to lift a finger when it comes to keeping you hydrated!
ULTRA VIP DRINKS PACKAGE
Once you have been shown to your secret garden booth your hostess will get the party going in full flow with a choice of drink packages that are included within Ultra VIP.
Spirits – A choice of two bottles; Grey Goose, Hennessey, Moet, Verve, LPR Rose
All drinks packages come with; Own Ice bucket, Mixers, soft drinks to ensure your hydrated
ULTRA VIP FOOD TOKENS
We have a great selection of Street food traders on site to provide gourmet street food, your tokens will be valid for a meal for any of the traders on site.
ULTRA VIP IS LIMITED TO 20 GROUPS OF SEVEN PEOPLE + YOU, The price for the ultimate VIP for you and your friends is priced at £949.00.