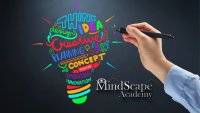 MindScape MasterClass : Money & Success Online

Online Live Interactive seminar via Zoom - North America and UK/Europe Special
Saturday 19th June 2021
Pacific Time 8.30am-1.30pm, EST 11.30am-4.30pm, London UK 4.30pm-9.30pm
Pre-requisites: MindScape. (Basic level, any instructor).
I am so excited to be able to offer this unique and powerful MindScape MasterClass as an online interactive seminar via Zoom for the first time this year. Having taught the class to hundreds of MindScapers around the world, I am so pleased to be able to offer this powerful MindScape MasterClass in online interactive format. This MasterClass can be taken over and over again.
Not only is this a great class  to enhance your practical skills in using your MindScape Workshop, its a powerful example of how we can utilise our MindScape Workshop to shift the limiting beliefs, blocks and fears holding us back. To help us find clarity and tap into our own inner guidance and wisdom. This has never been more important than in the current climate!  We are not short of people telling us what we should or shouldn't be doing, and if we're honest we often abdicate responsibility and put the onus on others to guide us.  But NO one else has your answers.  Instinctively we know this.  So time to connect to your inner wisdom, let go of the fears and limiting beliefs and  discover heart-based success.
Change Your Reality
Where in your life would you like to be more successful? Relationships? Heath? In your job? A new Career? Starting up a new business venture? In sports?
Most of us have some deeply held limiting beliefs and fears in our sub consicous programming. In many ways, often without realsing, we let these programs interfere with the choices we make in life. These can impact our life and stop us reaching our potential. The good news is that we can change this programming. MindScape is an easy to learn system that can provide a bridge to the sub-conscious mind when we're in the relaxed 'Alpha State'. This gives us the chance to rewrite the programs that don't serve us, and by doing so create a reality for one that we would prefer. Change your Mind....Change your reality.
Money
Issues and beliefs around money are so ingrained into our culture and sub conscious programs. So often money is cited as the reason why we cannot do the things we would like in life, or our issues of self worth are tied up with money. Another strong factor is excess fear which drives a need for security. Ultimately if we have issues around money, self worth or fear, then we will never have enough money. In the MasterClass you will be perform various exercises in MindScape to help balance your relationship to money. 
Success
Once we have balanced our relationship to money, we can then focus on utilising the power of MindScape to reprogram our subconscious mind, to focus on success, in whatever aspect of your life you would like to focus on, e.g. health, wealth, business, career, sports, arts, relationships etc.  We will explore the drivers and motivations behind your perceived goal, and explore the concept of 'Inspired Success'.  We will then work on identifying and balancing the blocks, limiting belief systems and fears that are in the way of achieving this success.  We will look at where you can reclaim your personal power, any boundaries you need to set or communicate and actions you need to take. The MasterClass will provide insights and provide a great opportunity to use your MindScape skills but specifically around the theme of success in any aspect of your life that you would like to work on.
Please Note:
This a live interactive seminar online via Zoom
It is not a recorded webinar
You will need a PC/tablet device with a Camera and
Reliable internet connection and speed
You will need to be interactive throughout the period of this seminar
BASIC MindScape is a Pre-Requisite.
Please not it is NOT an IBA class and no CEUs are available.
Early Bird Rate US$250 (total price - no extra taxes or booking fees).  Full Investment rate US$350.  Monitor rates for previous attendees of this MasterClass US$175.  Spaces are limited for the online version.