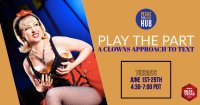 PLAY THE PART: A CLOWNS APPROACH TO TEXT
EVERY TUESDAY IN JUNE (5 CLASSES: June 1, 8, 15, 22 +29) 
4:30pm-7pm PDT | 6:30pm-9pm CDT | 7:30pm-10pm EDT
Prerequisite: Must have taken at least one clown workshop. Participants will be emailed scenes to print out prior to each class.
$300

Discover the magic that happens when we truly play in the moment. When we fully abandon what's coming next. When the ending is as big a mystery to us as it is the audience. When everything falls apart, rather than crumble, we shine. When we admit the mistake, instead of hiding or denying it. When we stop overthinking and simply follow our impulses. When we get out of our heads and play from our hearts. When we cast aside technique, research, and methodology and simply pretend. Pretend to be the Jester, the Dragon, the Queen, or even the Glorious Throne her majesty is sitting on. Is it possible your curiosity, imagination and courage are all you need? This workshop invites you to experience how Clowns approach text. 
"Play. That's it. That's all you need to do... The more you let yourself come through and just be simple and true and honest and authentic - that's what people connect with and that's how you will connect with an audience."   - Alan Cumming

"A clown sees life simply, without complications."   - George Bishop
TESTIMONIALS

"Play the Part should have "tickets" instead of "tuition" because it's just as much of an experience as it is a class. And as a class it's phenomenal. After a month you'll be happier, riskier, and— the texts Shannan chooses are very good— smarter."

- Tiffany Elle, actress and future playground games champion, CA

"Play The Part, as with all of Shannan's classes, has one important element you can't get anywhere else. Shannan. I never leave Shannan's presence (whether in a class or a conversation) without being inspired to be a better clown and all-around person."

- Gilbert, Storyteller, OK

"Shannan skillfully creates a safe space encouraging authentic expression, camaraderie and all out play in her Play The Part class. Her generous spirit and true silliness made it easy for the class to open up and come together - a complete joy from beginning to end!"

- Jamie Hultgren, clown/fashion entrepreneur, Nashville

"In Shannan's class, Play the Part, play was the key word! It was so much fun to perform our roles. Shannan encouraged us to allow our clown to interpret the scripts and the results were surprising and delightful. Shannan's joyful energy was contagious and she was so wonderfully supportive."

- Cindy, improviser, Philadelphia

"I felt like I was on the most fun and exciting ride at the amusement park! Shannan guides the class through a variety of warm-ups leading the way to finding games within scenes of various plays. I discovered new ways to generate a sense of play and found a way to clown my way through text. Shannan truly is one of a kind as she toggles between Shannan teacher and Shannan clown. Her classes are extraordinarily fun as she manages to generate a community of play in the zoom room! Thank you Shannan!"
- Dana Savo, clown, storyteller, writer, Canada

"This class makes it so easy to combine clowning and scripts! Shannan opens you up to a world of different possibilities and relieves you of the need to do the lines "correctly." If you have ever wondered how to bring clowning to text, this is the class for you!" 
- Nicholas Polk, clown, humor writer, Chicago

"One of my comedy partners and I took Shannan's class as a way to get our clowning chops back in shape in preparation for an upcoming film shoot. I'm glad we did! PLAY THE PART was a great way to be working on text while embracing the joyful, playful, physical, and intuitive spirit of the clown. And it got us back on our feet and in our bodies after many months of quarantining."
- Ryan Harrison, writer and actor, LA