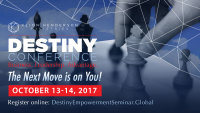 Strategy. Global Positioning.
Tactical Planning.
THE NEXT MOVE IS ON YOU!
Make plans to attend the Destiny Business & Leadership Conference presented by Keion Henderson Ministries on October 13-14, 2017 in Houston, Texas. This event will attract over 1,000 entrepreneurs, corporate decision-makers, and business leaders from across the country and around the world.

The Destiny Business & Leadership Conference will provide participants with tangible takeaways and best practices on how they can become better leaders in a changing and diverse world.
This world-renowned, two-day business conference delivers innovative leadership programming, networking and engagement opportunities for business leaders like you. Frominspiring keynote speakers and panel sessions to a marketplace expo and youth entrepreneurship track, this conference will equip you with the tools for leading at the next dimension of success.
The conference will sell out quickly, so register now to take advantage of special early bird pricing!
THE NEXT MOVE IS ON YOU!
Over the years, Destiny has brought a remarkable selection of leading keynote and inspirational speakers to the conference. From global leader, businessman and Pastor, Bishop T.D. Jakes to international MLM guru, Holton Buggs, our speakers have been experts in global business.
Stay tuned in the coming weeks as Destiny announces this year's speakers, experts, and guest panelists.If you ever felt like life was passing you by, then the 2016 Destiny Empowerment Seminar with Pastor Keion Henderson and special guests is for you

It's time to set-up in faith and take a chance on yourself and your dream. Too many people spend too much time thinking about what they should be doing vs. actually doing it!
If you've ever felt stuck or lost but had a dream in your heart, this seminar is for you. We uplift, we teach, we share experiences. There are too many failure to launch stories in this world. The difference between where you are at now and where you could be is knowledge. The 2016 Destiny Empowerment Seminar is about sharing knowledge and providing tools and resources to get you unstuck and to decode your destiny.


You will learn:
➔Address why you haven't moved forward with a dream or a business
➔Understand why Noah from the Bible thought like an entrepreneur should
➔Discover why overpromising is killing your consciousness and keeping you complacent
➔Why fear of failure holds many of us back but skyrockets others, like Oprah and Walt Disney
➔How negative self-talk becomes traits of those who wish but don't do
➔and so much more.


All purchases are FINAL. Payments are not refundable for any reason including, but not limited to, failure to use Destiny Empowerment Seminar registration due to illness, acts of God, travel-related problems, loss of employment and duplicate purchase.