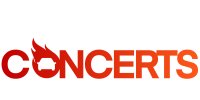 Rain

or

Shine

-

 The Show Goes On!  (All Ticket Sales Are Final)
Drive-In Concert Is Atlanta's 1st R&B + Hip Hop Social Distancing Concert Series 
TICKETS AVAILABLE NOW | DOORS OPEN AT 4PM | SHOWTIME

@

 7PM - 11PM
(All Vehicles

MUST BE PARKED

By 7pm)
We Are A SOCIAL DISTANCING ENTERTAINMENT SOLUTION!
SOCIAL DISTANCING GUIDELINES STRICTLY ENFORCED


* Bring Your Tables, Chairs, Sanitizer, and Masks 
* Social Distancing Strictly Enforced

Tailgate Area Rules: NO GRILLS, NO TENTS, NO UMBRELLAS, NO GLASS ANYTHING, NO MOVING VEHICLE  AFTER PARKED (unless escorted by a uniformed police officer)
ABSOLUTELY NO GATHERINGS OF 10+ PEOPLE PER PARKING SPACE OR ENTERTAINMENT ZONE
LOCATION/VENUE:
Atlanta Expo Center - North (parking lot) -  3650 Jonesboro Rd S.E. Atlanta Ga. 30354
PARKING LOT MAP w/ PARKING ZONES: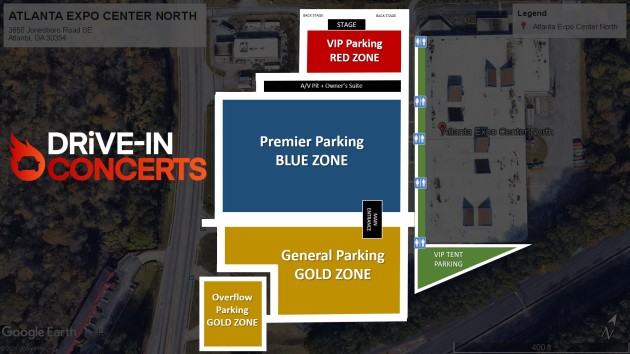 ZERO TOLERANCE SOCIAL DISTANCING + SAFETY & PROXIMITY PROTOCOLS:
1. EVERYONE Must Wear A Mask Outside of Your Designated Entertainment Zone.
2. ALL VEHICLES Must Remain Within The Parking Zone They Purchased
3. Once Parked, ABSOLUTELY NO DRIVING Until The End of the Event (unless escorted by a uniformed officer)

Failure To Adhere To These Safety Protocols May Result In Removal From The Event - REFUND REQUESTS NOT APPLICABLE!
In The Event Of An Emergency, Engage Your Hazard Lights To Request Assistance. 
ALL OVERSIZE VEHICLES MUST PARK IN THE OVERFLOW ZONE!
What Is An Oversize Vehicle?  Basically, any vehicle you wouldn't call a "car, SUV (small or midsize) or pickup truck (small or regular size)". 
To get technical, an over-sized vehicle is one that is greater than 180 inches (15'1") long and 70 inches (5'10") high. Any vehicle that meets or exceeds these dimensions is subject to the over-sized vehicle policy. It's important to note that the decision to classify a vehicle as "OVERSIZE" is ultimately up to the discretion of the Drive-In Concerts attendant, who may not have the time to measure your vehicle upon arrival. As a general rule, we advise everyone to be prepared for the possibility of an "OVERSIZE VEHICLE" designation if you're driving anything larger than a sedan, regular size truck or midsize SUV.  
The Below Vehicles Are Examples of What Could Be Considered Over-Sized (**This list IS NOT inclusive**): Jeep Grand Cherokee -- Toyota Land Cruiser -- Nissan Armada -- Honda Odyssey -- Cadillac Escalade -- Chevrolet Suburban, Tahoe .-- Dodge Caravan, Ram -- Ford Excursion, Expedition, F250 & above -- GMC Yukon --  Hummer  H1 & H2-- Infiniti QX Series -- Lexus LX Series -- All Full Size Vans. There is one class above over-sized; that is super-sized. Super-Size Vehicles ARE NOT PERMITTED. If over-sized parking is not available in the GOLD ZONE, you may be asked to either park outside of the arena zone or leave the event. WE STRONGLY RECOMMEND DRIVING A COMPACT, MIDSIZE OR REGULAR SIZE VEHICLE.