---
---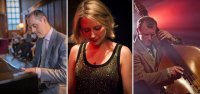 What better way to spend a lazy summer afternoon that relaxing to some favourite jazz standards?
Finchcocks Musical Director and pianist David Hall, Programme Director and singer Jennifer Maslin and the incredibly talented double bassist James Sunney come together to serenade you with some jazz standard classics. From Finchcocks favourites such as It's only a paper moon, Autumn leaves/ Les feuilles mortes and September in the rain to Ain't misbehavin and Lullaby of Birdland, there's hopefully something to get all jazz lovers toes tapping!
Audience numbers are currently limited to 100.

Weather
All events are planned to be held in the private family garden and performed on our open-air stage. Seating will be provided but please do bring a blanket or anything else you need to keep yourself comfortable outdoors. Performances will be moved inside in the case of inclement weather.
Accessibility
Access from to the garden is made from the car park along gravel paths. No steps are involved.
Should the performance be held inside due to poor weather, steps are unfortunately unavoidable due to the nature of the grade 1 listed building. Every effort will be made to facilitate access in this situation, however a full refund can alternatively be offered.
Facilities
Temporary toilet facilities will be provided on site. An accessible toilet is available upon request. Please speak to a member of staff upon booking for more information.
A paid/ cash bar will be open to serve refreshments for all events.