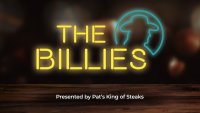 Billy Penn's annual awards show is back for another fun night celebrating Philadelphia culture and creativity
Presented by Pat's King of Steaks, the 2021 Billies honors local connectors, creators, champions, innovators, leaders, allies and heroes at a virtual ceremony you can attend from anywhere. The gala celebration recognizes people making a positive impact on the city and region, and features live hosts, a fun raffle, and a special VIP after-party.

→ Tickets are Pay What You Wish (PWYW)
Here's what that means: If you'd like to buy a ticket to attend the Billies, the suggested price is $25 per person. All proceeds go directly to Billy Penn's bottom line and help fund our journalism.
But we don't want anyone to miss the show! So when you buy your ticket, you can choose to pay the suggested price, add an additional tax-deductible contribution, or select a different amount.
PWYW is in line with the philosophy that drives everything we do. The Billy Penn community is open to all. Our website doesn't have a paywall, and our daily newsletter is free. If you have the means, we hope you choose to generously support our nonprofit newsroom with your ticket purchase. Thanks so much for your support.

→ What do I get as a Billies VIP?
Show your love for Billy Penn and Philadelphia by joining the 2021 Billies VIP experience. VIPs will receive a special gift package (stay tuned for details) plus access to an exclusive after-party with our 2021 Billies winners and BP reporters.

BILLIES 2020 CATEGORIES
🍹 Better Than Wooder: For creating great drinks and places to enjoy them
📲 Never Delete Your Account: Most persuasive social media use
🎨 Graffiti Glowup: Most interesting street art
🔄 Best Pandemic Pivot: Celebrating a small business that 'made it work'
☀️ Lenfest Sunshine Award: Most Impactful Local Journalism Project
🚪 Stoop-er Star: Honoring a neighbor that leveled up their community
🤝🏼 We All We Got, We All We Need: Celebrating mutual aid organizations providing for their neighbors

🎭 Socially Distant Showstopper: For excellent (and safe) pandemic live arts production

💡 The Kids Are Alright: Zoomers breaking barriers and making waves

👑 Most Valuable Philadelphian: Honoring Ya Fav Trashman, Terrill Haigler


→ How do Billies tickets support Billy Penn?

The Billies is our annual fundraiser, and we rely on the money raised from ticket sales and sponsors (shoutout Pat's Steaks & the Lenfest Institute!) to support our newsroom. Funding goes to our original reporting, our free daily newsletter, and our monthly events, which help connect Philadelphians to information, resources, activities — and each other.

Your attendance and support at this fun awards show makes a big difference in helping keep Billy Penn's journalism alive.

For questions, email elaina@billypenn.com.

Can't make it June 16? Please consider a tax-deductible donation in support of Billy Penn's independent nonprofit newsroom.