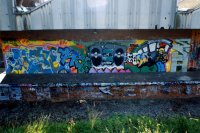 Sharing insights from the past that help us to make sense of the present.
Hip hop culture truly arrived on our shores in 1983, a decade after its origins in New York City. Although many defining events, artists and recordings demonstrate the spread of the genre in the UK, these are almost exclusively urban. In fact forms of hip hop expression were also developing in provincial areas, connected to, but distinct from the well-documented sounds of the metropolis.
Join Adam de Paor-Evans and Mikey D.O.N as they shed light on the hidden histories of hip hop pioneers in provincial and rural Britain. Drawing on themes of identity, relocation, and representation, and showcasing memorabilia that captures the aesthetics of 1980s provincial British hip hop, they will discuss how its uniqueness is woven into the fabric of our cultural and social history.
This event is accompanied by a podcast by Adam de Paor-Evans that presents some of the well-known and lesser-heard sounds that inspired the provincial hip hop scene between 1983-1992, available on Mixcloud.

Sign up to watch the event live and have the opportunity to submit your question during the audience Q&A.  Join the conversation online too, using the hashtag #ForCuriousMinds.
Speakers:
Adam de Paor-Evans, Reader in Ethnomusicology, University of Central Lancashire
Mikey D.O.N, original founding member of KRISPY 3, JAHPHILIATES, DJ, and Worldwide FM presenter
Chair: Farhana Haider, Journalist and Broadcaster, Presenter for the BBC World Service's Witness History
Adam de Paor-Evans is a recipient of a British Academy/Leverhulme Small Research Grant 2020 – funded by BEIS.
Image: 'New York (the Creators and Makers)' by Jay, Project Cee, and Scarce, Wall of Fame, Exeter, 1991. Photograph: Scarce.

Part of the British Academy Summer Showcase
This event will have live subtitles provided by StageTEXT, delivered by MyClearText

A recording of this event will be added to our YouTube channel after the event has taken place

ABOUT THE BRITISH ACADEMY

The British Academy is the UK's national academy for the humanities and social sciences. We mobilise these disciplines to understand the world and shape a brighter future.
From artificial intelligence to climate change, from building prosperity to improving well-being – today's complex challenges can only be resolved by deepening our insight into people, cultures and societies.
We invest in researchers and projects across the UK and overseas, engage the public with fresh thinking and debates, and bring together scholars, government, business and civil society to influence policy for the benefit of everyone.

Booking form privacy notice: The personal data you provide to us on the event booking form is being collected so that we can administer the event efficiently, contact you with important updates about the event (where required), ensure that your accessibility requirements are accommodated, notify event partners or individuals shaping the event about the event guest list (N.B. only your name and job title/organisation will be shared with relevant partners and individuals. Your contact details will never be shared) and to pass on an evaluation survey after the event. It will only be used by the British Academy for this purpose and it will be securely deleted within eight weeks of the event ending. This privacy information does not apply to the processing of your personal data by TicketTailor which will be governed by their privacy policy or by Zoom which will be governed by Zoom's terms and conditions. If you choose to donate to the British Academy, your personal data will be used for the purpose of administering your donation, both by the British Academy and the financial services company Stripe, who will process your card payment. This privacy information does not apply to the processing of your personal data by Stripe which will be governed by the terms outlined in their privacy policy. If you have any questions or concerns about how we use your personal data, please contact the British Academy's Data Protection Officer at dpo@thebritishacademy.ac.uk.