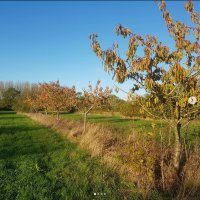 Digging deeper into agroforestry, heritage grains and pulses

September 8th - 9th 2021 (9.30am – 5pm)
Optional farm visits on the 10th

£145 for two days of workshops (including lunches)* (+ booking fee)
Additional £25 for dinner on the 8th and breakfast on the 9th 
A limited amount of accommodation is available on site from the 7th.
Stay on an extra night if you'd like to visit local farms on the 10th.
Book accommodation here. Participants staying for fewer than the full 3 nights are encouraged to book local accommodation off-site.
Additional meals will also be available for advance purchase. 

We are delighted to announce our second ORFC in the Field event - this one at Wakelyns, one of the longest established and most diverse agroforestry sites in the UK.
Ann and Martin Wolfe bought the farm at Wakelyns in Suffolk in 1992 and transformed it from a monocultural wheat field into an oasis of biodiversity for wildlife, crops and trees. Many of you will have witnessed and perhaps even helped in the research and development of Wakelyns agroforestry, with its silvoarable systems involving alleys of willow, hazel and fruit trees mixed with an organic arable and vegetable crop rotation. It's a "three-dimensional" system that European research has shown can increase farm profitability by 10 – 50% and biodiversity by 40 – 50%.
Sadly, Martin passed away two years ago, but his and Ann's legacy lives on in the work and research being done by the team at Wakelyns and those who were lucky enough to know and learn from them. The intention of two-day residential event – the first of its kind – is to share the knowledge with a wider group. During your time at the farm, you will learn from permaculture and biodynamic expert, Marina O'Connell, heritage grains pioneer, John Letts and Homedod's founder, Josiah Meldrum. You will also see these heritage varieties milled and have the opportunity turn them into wonderful sourdough loaves under the expert tuition of master baker, Henrietta Inman.
Come and find out about agroforestry, why it is so critical to the future of farming and how you can implement its key principles on your land. Learn more about heritage grains; what they are; why they matter and what it takes to create new populations; and find out more about growing and marketing pulses in the UK. There will also be the option to visit neighbouring farms in East Anglia.
A limited amount of accommodation is available on-site in Wakelyns' new movable pods, camping or in nearby accommodation. Book accommodation on-site here. There is also limited accommodation reserved for all 3 nights for ORFC in the Field participants at the nearest B&B, The Duke William. Call to book directly and let them know you are with ORFC in the Field. Those staying for fewer than the full 3 nights are encouraged to book other local accommodation.
There will be also be great food and lots of laughs! Lunch is included with registration for both days (the 8th and 9th). A meal ticket for a buffet dinner on the 8th and breakfast on the 9th is available for £25, and additional meals will also be available for advance purchase for those joining earlier on the 7th and/or staying through the 10th. Catering will be provided by Wakelyn's Bakery.
Don't miss out!
Please note tickets are nonrefundable after Monday, 2 August 2021. Booking fees are nonrefundable. Full terms and conditions are available here. Any queries, please contact francesca@orfc.org.uk
*A small number of bursary tickets (£75) are also available for small farmers/growers/producers, students and people from diverse backgrounds. Please apply here by Monday, 19 July for a chance to be allocated one of these tickets.