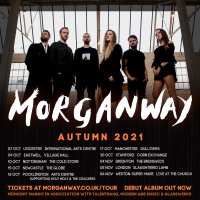 We take great delight in welcoming Morganway to the church on what will be the last date of their 2021 Autumn tour.

Striking six-part harmonies, energetic rhythms, catchy songs and a fiercely formidable live act – Morganway have made quite the impression on the UK's rising Americana scene. Part country, part rock, with sprinklings of folk and something else entirely, it's not easy categorising the band's "delightfully unconventional sound" (Desperately Lost City).

Founded by twin brothers Callum and Kieran Morgan, the shared lead vocals of Callum and SJ Mortimer, along with the band's love of '70s west coast rock, has drawn comparisons to Fleetwood Mac. SJ's powerhouse voice is at the centre, part-angel, part-banshee, while Nicole Terry's stomping fiddle creates darker, folkier undercurrents coupled with Kieran's distinctive guitar sound. Matt Brocklehurst (keys) and 'Steady' Eddy (drums) complete the lineup.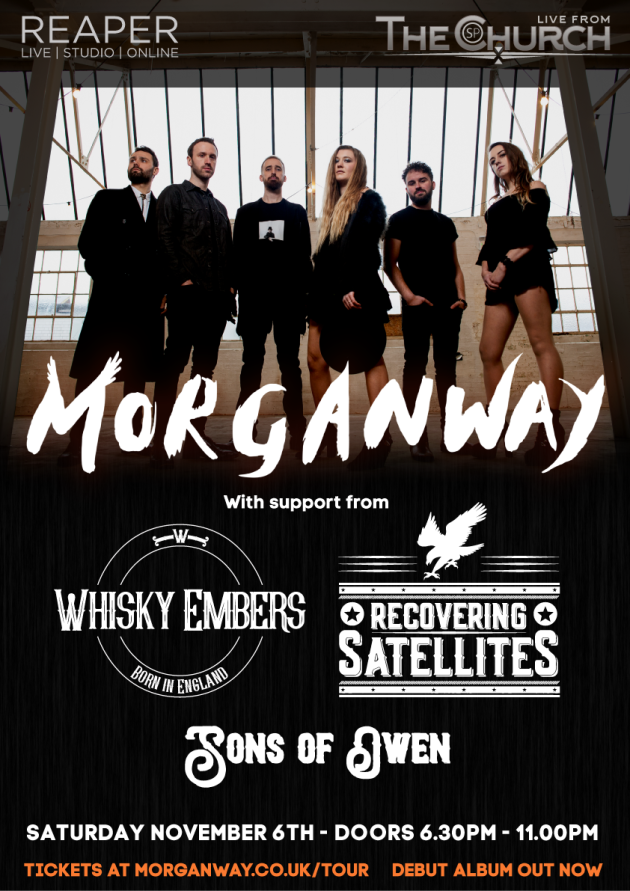 Supporting Morganway are:

Whisky Embers
Southern Rock born in the Southwest of England, Whisky Embers have forged their sound and merged their influences to create huge stompin' rootsy riffs and songs you can't help but sing.
Their live shows are energetic and powerful, bringing an unforgettable party to any venue they play. Influenced by modern day artists such as Luke Bryan, Jason Aldean & Keith Urban blended with all the classic rock music they grew up listening to, Whisky Embers' sound packs a punch that'll get you moving.
Formed in 2015 originally as Square One, their passion for gigging, writing and recording has led them to some huge opportunities.

Recovering Satellites
The five-piece Recovering Satellites have been delivering their brand of exciting UK Country Rock since 2016, from the heart of England's West Country, County Somerset.  A love of American Country, Folk and Americana with a blend of British rock/pop influences is evident in the sound they
have crafted; soulful lyrics sit alongside carefully picked guitar and lilting pedal steel chords that at once root the band in their South-West home whilst conjuring an unmistakble stateside-sound. The band has recently been working hard writing and recording new material whilst playing local gigs and festival dates. Recovering Satellites are an ambitious high energy band that love nothing more than putting on a show. They are here to stay and intend to take the UK country scene to the next level.

Sons of Owen
Three piece original Americana band from South Wales.

Doors will open at 6.30pm with music finishing at 11.00pm.


We'll have limited seated tickets to purchase, but please be aware this is a standing gig as we expect you all to be up and jumping around all night to what is going to be a wall of high octane, floor stomping music!

Over 14 years only with a responsible adult
DISABLED AREA AND SEATING
Unless otherwise stated this event will be a standing only event with little or no seating available. If you have a medical reason to require seating or are registered disabled, please inform us prior to the event and we will ensure we allocate an area for you to sit in. If you arrive at the event without informing us, we will do our best to allocate you, but in all cases we would request that you bring proof of disability in the form of either your DLA entitlement, PIP's, Blue Badge or Access Card. Please contact us prior to any of our events if you have a Personal Assistant so that we can issue you with a free ticket for them.

We request this to ensure we have as much capacity for disabled customers as possible. Thank you for your understanding.
We are basing the date for this event on current government guidelines and hope that we will be able to proceed on the date planned. If for any reason we need to move the date all tickets will remain valid for the rescheduled date.