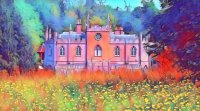 Welcome to All About Love 2021. 12th - 15th August. Braziers Park, Oxfordshire.
All About Love is 5 this year and after all of the fear and oppression that we have gone through during 2020, we genuinely feel that 2021 will be another 'Summer of Love'.
So in the spirit of 69 and 88, we invite you to join us on a cosmic journey of sound and healing THIS SUMMER. We really appreciate you taking the time to feel who we are as a tribe and what the festival stands for, before you buy a ticket.
As far as we know, we are still the only festival that connects personally with each and every person who comes. Yes everyone gets a call! Why? Meaningful connection and long term friendship is why All About Love exists. It is a Herculean effort to speak with everyone, but what is the point of having an event which is about tribe and connectivity, if we don't connect?
We are deeply grateful that you believe in our vision and need you to understand how much that means to us. We are all co-creators in the event, equal parts. We couldn't do it without you.
All About Love is not simply a festival, it is a deeply interconnected mycelium that is way bigger than the sum of each of it's individual threads. We are a family, a powerful prayer made real through the genuine miracle that is co creation and creative cross pollination.
It ain't rocket science. It's alchemy.
All About Love believes that collectively, we are shaping a new scene here in the UK. We refer to our music as 'World Soul'. Together we have built a powerful bridge between the magical, indigenous inspired sounds of the 'world folk festivals' to the highest quality electronic dance music and (as if that wasn't already enough), we have infused that with the cosmic and transformational energy of a wild hearted medicine ceremony vibration.
It is way beyond Rock and Roll...
Our souls know no boundaries. We can achieve the seemingly impossible when we unify our hearts.
So with this in mind...
I invite you to....
Bring your love.
Bring your grief.
Bring your strength.
Bring your weakness.
Bring your rebel.
Bring your fear.
Bring your wounds.
Bring your release.
Bring your anger.
Bring your forgiveness.
Bring your exhaustion.
Bring your resources.
Bring your tears.
Bring your smiles.
Receive our friendship.
Receive our support.
Receive our laughter.
Receive our kindness.
Receive your restoration.
Receive your renewal.
Receive this truth...
It really, truly, only is... All About Love.
Hug me until I drop. I am ALL yours.
Tiger Si