The ECU101 - The SMART Method to Teach Chess training course was designed by the leading chess educationists in Europe and is validated by the ECU Advisory Board which is an international academic panel with experts in disciplines from cognitive science and psychology to statistics and pedagogy. The certification was developed following the Declaration by the European Parliament on 15th March 2012 that Chess in Schools should be encouraged for educational purposes. The course is innovative in terms of content and delivery. It uses the SMART method developed by the professional ChessPlus team based upon years of practical experience supplemented by action research.

The course is suitable for teachers and tutors who want to make chess an exciting and educational experience for children. The course helps you to build up your teaching skills in chess so as to improve the general educational attainment of children. You can showcase this qualification on your CV and LinkedIn profile. The course qualifies towards Continuing Professional Development and is recognised across Europe by virtue of being accredited by the European Chess Union.
This Training Course is subsidised by the European Chess Union to members of national chess federations affiliated with ECU such that concessionary places will be provided for the following:
a) Women applying individually from ECU federations
b) ECU federation members of Small Nations and Development countries:

Albania
Andorra
Bosnia
Kosovo
Liechtenstein
Luxembourg
Moldova
Monaco
Montenegro
North Macedonia
San Marino
Scotland
Wales
Cyprus
Faroe Islands
Guernsey
Ireland
Jersey
Malta
The number of attendees on the course is limited to 30. Concessionary registrations will be accepted on a first come, first served basis.
All registrants should be over 18 years old.
Applicants for the ECU concessionary places should contact to receive the access code: ecu.secretary.general@gmail.com
Course information:
Course ID

: ECU101

Duration: 2 days
Dates: 19-20 June 2021
Time:

Please note, all times are in London Time




Day1

09.00 - 11.30

12.30 - 15.00

DAY2

09.00 - 11.30

12.30 - 15.00

Language: English
Fee: £150 (free to concessions)
Venue: on ZOOM
Course Instructor: Jesper Hall
Early Birds go for £135 until the 10th of June 2021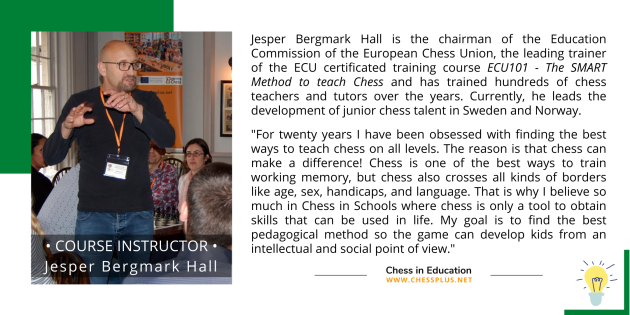 Are you interested in more training courses certificated by the European Chess Union?


Contact: training@chessplus.net
Follow us on Facebook and Twitter