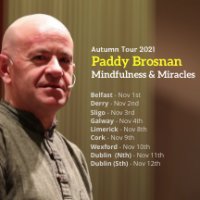 Mindfulness & Miracles is the brand new workshop from internationally renowned mindfulness & meditation teacher and bestselling author, Paddy Brosnan. It's two hours of stories, chats and life changing insights. It's a journey of healing inspiration that will take you to the quiet heart of calm that exists in all of us.
Drawing on 15 years of experience practicing mindfulness and living mindfully and over a decade of teaching others to do the same, this is Paddy's most intimate and life affirming workshop to date. His simple, yet profound message delivered with humour and compassion has helped countless people find inner peace and fulfilment in their lives. Now it's your turn to discover how to live mindfully and to create your own miracles.
Over the years I have been privileged to witness so many people create miracles in their lives by practicing mindfulness. They have conquered their fears, released themselves from crippling anxiety, learned to calm their chronic pain and freed themselves from constant worry. They found a new way to live, with more joy, ease and peace of mind.
Join me to hear their stories and I'll show you how you can bring Mindfulness & Miracles to your own life.
Yours,
Paddy
___________________________________________________________________________________________
Crowd Management Plan

We expect that by the time of the event, most restrictions currently in place will be relaxed. However, as the situation and guidelines relating to COVID-19 are fluid, we will continue to review, adapt and follow the guidance from Government at the time.
We will collate and safely maintain contact details of all hotel staff, event team and attendees, in order to comply with Track & Trace requirements.
We will follow the social distancing advice issued at the time of the event.
Separate entrances and exits will be available if required.
Masks may still have to worn inside, so we ask that all attendees be prepared to bring one with them, but we will advise close to the date.