---
---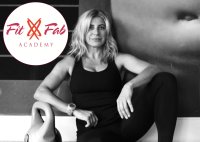 Hey Gang 
Welcome to JUNE 2021 :-)
We are starting this month with a half term week where I will only run 3 classes so no challenge - I will bring it back in weeks 2-5 :-)

CLASS MAKE UP (for individual bookings not weekly membership) - if you cannot make the booked class you can attend any other class in the week - but if you cannot attend the class you swapped for - I am afraid that you miss out as it will not be rolled over any further. 
Last but not least - all members of your household are very welcome to join with no extra fee! Do it as a family and have fun!


CLASSES in JUNE
Tuesday HIIT @ 7.30am - 30 min / £4.50

Tuesday Barre @ 7.30pm - 60 min / £6.50

Thursday Weights @ 7.30am - 30 min / £4.50

Friday BoxFit @ 7.30am - 60 min / £6.50

ZOOM links will be sent out the day before. Please advise ASAP if you do not get yours. Sometimes they go to SPAM so please have a look there too. Thank you.
Please make sure that your WiFi signal strength and connection speed are sufficient to participate. The classes will not be refunded due to the signal drop. Thank you for your understanding.  

Love to you all
Kasia xx


EQUIPMENT for CLASSES
For all classes you will need a mat with some other equipment ready (we might use none, one or more at the session):

floor mat
chair (used as barre bar, bench or step)


gliders - if you don't have them try using paper plates on wooden floors or plastic plates on carpet ones

weights: light (0.5/1kg) or heavier (2kg+ i.e. water/milk bottles)

skipping rope

resistance band or tea towel

weightless pole (i.e. from a broom or velux windows)

tennis ball
I will be online waiting for you ca 10 mins before the class is due to start :-)