---
Buy tickets
Ticket Type
Price (£)
Fee (£)
Quantity
---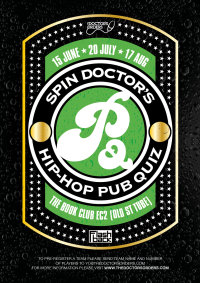 Spin Doctor's Hip-Hop Pub Quiz
@ The Book Club, Leonard Street, London EC2
9pm - 2am 3rd Thursday of Evert Month in 2017
17th Aug | 21st Sept | 19th Oct | 16th Nov | 21st Dec
FREE ENTRY
£2 per player in advance || £3 per player on the night || Teams limited to 6 players
To pre-register a team please buy pay through www.thedoctorsorders.com
Send team name, number of players & whether you have entered before to yo@thedoctorsorders.com
Spin Doctor's hugely popular Hip-Hop Pub Quiz has BIG NEWS!
Not only is it now every month at The Book Club but is moving to a monthly Thursday AND is now followed by The Doctor's Orders own Midweek Marauders party.

What started as just a one off event in his mates pub back in 2009 has become one of the most popular quizzes in London. You can expect the typical pub quiz rounds (film, sports, picture etc) but just about Hip-Hop with questions covering all era's and set so everyone from the most ardent rap fan to those dragged along by their mates can get involved.
Teams compete for spot prizes in each round, for the top 2 finishers and a special booby prize for the team coming last. However the real battle is for pride and for the chance to get their hands on the coveted Hip-Hop Pub Quiz Champions' belt!
If interested please register in advance to yo@thedoctorsorders.com
Quiz Prizes kindly provided by our kind sponsors Flashback Records