---
---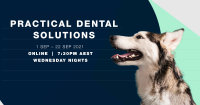 Practical dental floss-ophies come from those who have seen many a good and bad oral exam. You can do a lot to help your patients when it comes to their teeth and the fundamentals are still the same as they were many years ago. AND, if you desire to do more than just those horrid grade 4 periodontal disease mouths, this course is just for you.
Over this four-week course we will be covering some of the more interesting details about dentistry for your small animals. From knowing what you're looking at in an oral exam to whether to save or sacrifice that fractured tooth and early intervention for malocclusions. Make the difference today for your patients and get across some of the practical solutions for a well-rounded dental approach.

VetPrac, the whole experience!