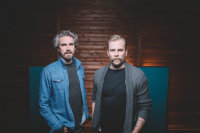 Before they were The Bros. Landreth, Joey and Dave were only looking for a good excuse to spend a little more time together. They had spent their respective early years backing up other artists and travelling as hired musicians until one particularly long and challenging tour prompted Joey to call his older brother with a simple proposal, "When I get home, let's sit down and make some music together" That phone call would be the turning point – seeing them focus on their own roots-rock sound that went on to be celebrated on their acclaimed debut album, Let It Lie.
The album received widespread acclaim, won multiple awards including a JUNO, and propelled the band to play over 400 tour dates around the world. A Rolling Stone review praised the band's "quiet storm of slide guitar solos, blue notes, three part harmonies".
After three years of non-stop touring, the band went on a hiatus and Joey moved from Winnipeg to Toronto. The break afforded Joey the opportunity to release and extensively tour both his debut solo album Whiskey in 2017, and his follow-up album, Hindsight, early in 2019. These records further cemented Joey's reputation for being a first-rate guitar slinger, songwriter, and performer in his own right. His growing solo career might have delayed the timeline for the brothers, yet they never stopped writing. Those songs would eventually be recorded for their long awaited, follow-up release, '87, titled after the year that Joey was born.
The bros have participated in some high profile collaborations: a concert with the Winnipeg Symphony Orchestra, played to a sold-out crowd at The Centennial Concert Hall in 2018, and Next of Kin, a ballet choreographed by Philippe Larouche entirely to music by The Bros. Landreth. The ballet was performed by the internationally acclaimed Royal Winnipeg Ballet, with the band live on stage, playing and interacting with the dancers. In early 2020, the brothers released two songs with Mariel Buckley. Goodbye was a co-write between the brothers and Mariel and When I Call Your Name is a cover of Vince Gill's lonesome country ballad. The EP was meant to launch a season of touring behind '87, with Mariel Buckley as support, but the Covid-19 pandemic quickly changed the touring landscape for artists across the world.
They return to Pembrokeshire following on from 2019's epic, sold out show. This is not to be missed.