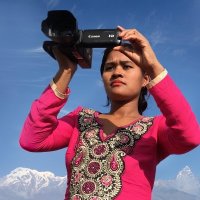 Join us for a virtual screening of the feature documentary film, I AM BELMAYA, 
and afterwards for a live Q&A with director, Sue Carpenter.

A tale of rebellion, courage and hope in patriarchal Nepal.
Directed by women. Written by women. Produced by women.
Your ticket supports women in Nepal to rebuild their lives after violence.

Dominated by her husband, her family and society, Belmaya is desperate for independence. Born a Dalit (the lowest, 'untouchable' caste), orphaned at the age of nine, poorly educated, and trapped in an abusive marriage with a baby daughter, Belmaya, 21, has given up hope of finding happiness. A story 14 years in the making, I Am Belmaya follows Belmaya's transformational journey from subjugated wife to award-winning documentary filmmaker.

Trigger warning: This film contains dicussion around domestic violence, which may be emotionally triggering. We encourage you to look after your safety and wellbeing. Support services can be found here.

"I AM HUGELY TOUCHED AND IMPRESSED BY THIS BEAUTIFUL WORK. A DARING AND HEART-BREAKING FILM, WHICH FILLS ONE WITH HOPE AND ADMIRATION. FIVE SHINING STARS FROM ME" – JOANNA LUMLEY


How will the screening work?

Event schedule:
5pm AEST Saturday 19 June: You will be sent a link to the film via email. You can watch the film anytime on Saturday or Sunday.
6.30pm AEST Sunday 20 June: Join a live Q&A with director, Sue Carpenter. The Q&A will go for 45 minutes - you will have an opportunity to ask questions about the film and hear snippets from a pre-recorded Q&A with Belmaya. You will be sent a Zoom link for the Q&A via email. We would recommend watching the film at 5pm so that you can join the Q&A after. 
11pm AEST Sunday 20 June: Access to the screening ends.
Tickets are $20 per person.
All profits will be split equally between:
Project Didi Australia to support strong futures for survivors of trafficking and violence in Nepal. Find out more.

Tideturner Films to fund a public release of the film to amplify its important messages, with 10% of Tideturner's share going direct to Belmaya, who has been unable to earn an income since the COVID-19 crisis. 
If you would like to support Belmaya and the film's outreach, you can donate separately to the I Am Belmaya GoFundMe campaign at https://gofund.me/d9ac2bdb. 20% of proceeds will go direct to Belmaya.

If COVID-19 restrictions allow in your location, why not host a screening with friends and family? We ask, if you do this, please purchase a ticket per person, as proceeds are directed to holistic care, education and employment pathways for survivors of trafficking and abuse in Nepal.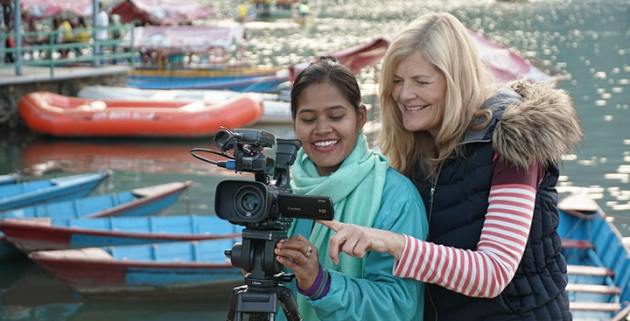 Sue Carpenter, Director/Producer
Sue has been involved in Nepal and women's rights for 20 years. A journalist and photographer, she moved into documentary filmmaking in 2013, and set up Tideturner Films, to make independent documentaries that spark social change. In 2006-07 she lived in Pokhara, running the My World, My View photo project, where she met Belmaya Nepali. Sue is a Founder Trustee of GlobalGirl Media UK, empowering young women through digital media training.

Project Didi Australia
Project Didi strives for futures of hope, dignity and independence for survivors of trafficking and abuse. We partner with locally-led organisations in Nepal to support women and girls with the resources, tools and opportunities they need to lead self-determined lives, free from violence. Learn more: www.projectdidiaustralia.org. 


Project Didi Australia is a partner for Project J1082N Futures of Dignity and Opportunity with Global Development Group (ABN 57 102 400 993). ​Any excess funds will be directed to other approved project activities.
Tax deductible receipts for gifts over $2 with a preference for this project will be issued by GDG. Please note ticket sales are not tax deductible.