---
---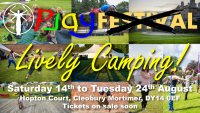 The effects of Covid meant it wasn't possible to plan a full festival, so we're opening the camp site by itself for our circus family instead! Bring yourself, your family and your friends, to the best (only!?) UK circus family camping experience in 2021 :) 
We are back again in our lovely home, Hopton Court   https://goo.gl/maps/ivSYiM14fuMdHeLRA
For those who have been before you already know PLaY is about making circus fun and accessible for everyone in a beautiful countryside setting. We were determined to keep the prices as low as possible and we've been able to keep them comparable or better than most other regular campsite prices, woohoo!

We also give you venues to hang out at and use with your best circus friends :) You could make your own show in our stripey tent, play some music and have a dance in our new stretch tent, hang out and skill swap on the outdoor stage, chill in the listed orangery (no circus in the orangery!!), tell stories, or play games in the walled garden.....the possibilities are as endless as your imagination.
And of course it wouldn't be the same if our friends Spinning@ didn't come along, so they are!! They will be bringing their tent and their usual flavour of silliness and shenanigans along with them (For 2nd half only).
We can't wait to see you, it's been far to long and we're super excited to be able to hang out with you all again. 

See you in our field
MOAR CIRCUS!!! 
Love from the PLaY Team xx