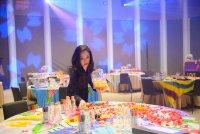 This one-of-a-kind experience guides you step-by-step to exponentially improve your personal performance and results in all areas of life, career, and business. Your program starts with a 360-degree assessment, a 3-Day immersive session, followed by 12-Months of implementation support.
Transform Your Life, Career, or Business!
Accelerate your quest for spiritual, emotional, and financial freedom via this one-of-a-kind program. Gain new confidence, tools, and a like-minded community.
Join Andrew John Harrison, the co-founder of Goldzone for a fun, entertaining, and inspiring journey. You will learn new ideas and tools you can apply right away and see results immediately.

What Is It?
3-day experiential program conducted live from Singapore at the Four Seasons Hotel. Session size is limited due to social distancing, and to facilitate group discussion, exercises, and active participation. Participate in person or online!

The program is designed for motivated and busy people who want to accelerate their results in all areas of life, career, or business. Ultimately it is about creating more personal freedom for oneself to work the way you want, live where you want with who you want doing what you want in a way that is sustainable, fulfilling, and contributes to others, humanity, and our global community of fellow travelers on spaceship earth. 
At the end of the day, more freedom requires that you step into a greater level of personal leadership and that's exactly what we focus on.
Expanding your Personal Leadership is the foundation of this program.
Focus
The program helps you to succeed faster by taking small, simple steps that will have an enormous impact on your life, career, or business. Using the revolutionary OPTIMA Zones System® that produces measurable results across the Seven Key Dynamics of Life, you will discover your true potential to enjoy life and success at a level that you previously thought impossible.
You will learn and apply Goldzone's revolutionary model of Leadership, how-to-do-it tools, strategies, and systems to dramatically improve performance and results for leaders, teams, and organizations.

Why Is It Called an Experience?
We live in experiences. Our memories are comprised of spiritually and emotionally impactful moments that we share with others.
One of the challenges of most lecture-style seminars is that they don't educate us as whole people; spiritual, mental, emotional, and physical.
People learn concepts that they can't apply and pick up ideas that may not work for them.
Most people find themselves over-developed mentally and physically and underdeveloped spiritually and emotionally. The GOLDZONE Experience addresses this in a safe, fun, and relaxing way. We deliver a holistic experience, in a spectacular environment and carefully sculpt the physical environment, the food, the classroom, the music, the videos, the presentation slides, the dynamic presentation with new and revolutionary content that educates, informs, moves, and inspires you to make small, simple changes in your life that produce extraordinary results.
This holistic experience will move you spiritually, mentally, emotionally, and physically and in just three days will save you years of time and energy to achieve the same mindset shift – if it is even possible without the input of people like us who have been there and done that.
Did I mention it is also fun and entertaining? We like to laugh a lot so don't come if you can't laugh. We have found that when it's fun, we remember more, are engaged more, it's more effective and we easily get into and stay in the zone!
"The Experience will give you a Quantum Leap and transformation in your SUCCESS."
You will explore the connection between your personal and professional lives and learn how to integrate yourself as a whole person to achieve the ultimate success in your work/career and personal life!
Transform One or All Seven Vital Areas of Life, Career, and Business:
1. Money
Mastery of your finances includes monetizing your passion, building your wealth, assets that grow on their own, and cash flow to do all the things you want to do. Never worry about money again.
2. Business
Owning and investing in businesses offers the greatest upside leverage while minimizing the downside. Add value, monetize, scale your passion into a money-making machine that works without you.
3. Relationships
The quality of your life comes down to the quality of your relationships. Transcend power struggles and your ideal relationships full of love, intimacy, connection, and a partnership of equals.
4. Career
Work is more than earning a living, it should be a profitable vehicle to express our passions, creativity, and self-expression. Since we spend more than 42% of our time working, it should meet our spiritual needs.
6. Self-Expression
Discover who you are on the inside, your unique voice, and bring this person out and shining to express your natural gifts to the world. Authenticity, art, creativity. Your lifestyle is a reflection of who you are.
7. Leadership
It is all about leading yourself. Influencing others to take the action you want, galvanizing around a shared vision, and inspiring others to step up to the leadership challenge.
Personal Leadership is the foundation of successful living.
You will learn how to create and articulate an Ideal Scene, align your partnership or team, and magnetize them into action.
Who Should Attend
Leaders & Change-Agents - Looking for an edge to inspire transformational change
High-performance individuals - seeking the next level
Investors, Entrepreneurs, Business Owners, or Senior Executives - who work with and lead people
Professionals - Looking for more fulfillment, freedom, and work-life harmony
Seekers - Who are searching for answers via personal development, who have read books, attended seminars, and are still searching
People wanting to be on the fast-track
Couples looking for a dramatic improvement
When & Where
Select a convenient date/time:

November 27 to 29, 2021 - 9 am to 7 pm (UTC+8)
February 26 to 28, 2022 - 9 am to 7 pm (UTC+8)
May 7 to 9, 2022 - 9 am to 7 pm (UTC+8)
Where:

Online via Goldzone's Interactive Digital Classroom
Your Investment
$3,888 per attendee
$3,333 each for couples
$2,500 each for groups of 10 (subject to availability)
$375 x 12 payments
$888 to re-attend

Your program begins the moment you register!

100% No-Risk Money-Back Guarantee
Simply attend the Seminar and if you're not delighted, let us know at the end of the program, and we will arrange a 100% no-questions-asked refund.
What's Included
Your Registration Includes:
3-Day Program (30 hours), Workbook, and Program Materials. Valued at $3,888.
Comprehensive Pre-Attendance Package, Personal Discovery and ZONE Analysis to begin my program and customize it to my unique situation. Valued at $250.
Full OPTIMA Zones of Peak Performance System. Valued at $500.
45-minute Post-Program Strategy Session. Valued at $188.
12-Month GOLD Membership in Renaissance for Leaders, for ongoing education and implementation support. Valued at $3,333.
6-Week Mastery Series including 6 x 3-Hour virtual sessions. Valued at $995.
Lifetime re-attendance for just $888 (you save 78%).
You will also receive a Certificate of Completion.

$9,154 of value for just $3,888


Top Benefits You Can Expect:
Yes! There are a lot of benefits from your investment in time and money. We can assure you that this program delivers! While results may vary from person to person, this will give you an overview of what you can expect:
Dramatically increase the quality of your relationships – so you can experience more joy, love, intimacy, and connection on a regular basis.
Eliminate drama and stress from your work and personal life – allowing you to experience more balance, creativity, and inspired serenity.
Increase your free time to do the things you have always wanted – but never had the time.
Get more done in less time – with less effort than you imagined possible.
Learn how the people we attract follow a pattern and how this pattern can be changed – to provide you with the ability to choose who you want to attract.
Discover the little-known connection between sex & money in a relationship – and learn how to create dramatic improvements in both areas.
Charge more for your products, services, or get a substantial pay raise – without losing customers.
More Flow:
Master the laws of attraction – rather than always having to make things happen through force.
Recognize when things are flowing and when they are not – so you can experience more flow and less struggle in the areas that are most important to you.
Know with certainty where people are coming from and how they will respond – before you get into a relationship or business with them.
Understand how resentment blocks the flow and limits what you can give or receive – enabling you to create dramatic improvements in flow in all areas.
Learn how to create "Synergistic Money Exchanges" so you can generate more money than you thought possible – allowing you never to be limited by money again.
Communicate with ease, exactly what you want, when you want, and how you want it – so you can get what you want every time.
Infuse your life with spirit and soul – to add more dimension, excitement, and fulfillment to your everyday life.
Shift Paradigms:
Exponentially build your wealth – without sacrificing your time, energy, or core values
Understand the dynamics of any team, business, or organization and know with confidence the fastest route to create alignment, creativity, and synergy – so the team operates fluidly and at an optimum level.
Understand how different people respond to change – so you can respond with certainty to any resistance or reactions.
Discover what you need to do to tap into inspiration, creativity, and source innovative thought, products or services – allowing you to transcend any competition and overcome creative deserts.
Develop your perception and intuition – so you can "read between the lines," see patterns of behavior and predict outcomes with certainty.
Dramatically improve your memory, ability to recall facts, figures, and experiences – so you can function with more quickness and remember important details with ease.
Master the dynamics of the "Success Paradigm" and move all aspects of your life into the "Fulfillment, Creative and Dream Paradigms" – dramatically improving your quality of life, creative expression, and fulfillment.
Get More of What You Want:
Learn tools and methods to get out of disempowering relationship plots – so that your relationships become more harmonious and connected.
Learn how to get out of the "high-stress, constantly working trap" where there is little to no time for self or for the spirit – allowing you to take charge of your time and your finances.
Develop a greater appreciation for quality goods, abundant surroundings, aesthetics, and beauty – allowing you to have more of these in your everyday life.
Dramatically increase your personal power and ability to get things done – giving you more control, influence and creating the ideal outcomes as you intend them.
Resolve painful memories from the past that have been knowingly or unknowingly impacting your ability to focus, concentrate, and be present in the moment – dramatically improving your feeling of certainty and current results.
Master the principles of creating abundant cash flow and financial resources – so you never have to be limited by a lack of money, worried about money, and can achieve true financial and emotional freedom.
Learn the difference between manifestation and acquisition – so you can create what you want with ease and in a shorter time than you ever thought was possible.
Look Great, Feel Good, Live Longer:
Learn the principles of vibrant health and wellness – allowing you to experience more vitality and energy to enjoy your favorite activities.
Move your relationships from competition, control, and resentment into partnership, cooperation, and team – allowing you to easily realize a worthy dream.
Reignite your enthusiasm and joy in living – giving you the vigor of youth with the wisdom of age.
Overcome any fear of rejection, loss, or failure – allowing you to freely choose what you want to do, become or be.
Master the ability to communicate with anyone at any time, regardless of their state, background, or agenda – allowing you to express yourself and dramatically improve your effectiveness.
Learn how our beliefs create our patterns of behavior and ultimately our results – so you can choose different beliefs that will give you the results you want.
Discover how our behavior follows a clear pattern over time, and learn how to see it – so you can make the right corrections, in the right areas.
Enjoy the Good Life:
Know with certainty how our personal lives and primary relationship affects our productivity, success, cash flow, and feeling of achievement – so you can reprioritize to make the important, important.
Understand your emotions and their role in your life – so you can become free from unwanted emotions (such as depression, loss, fear, anger) and can experience more joy, creativity, peace, and serenity.
Learn and master the principles of human motivation, behavior, and mindsets – so you can fully appreciate and understand the people around you, work with them with ease, give them what they want and ultimately get more of what you want.
Understand how different environments impact your mood and your ability to get what you want – so you can take charge of the environments you spend your time in.
Discover what traps, limits, or suppresses your Lifeforce, and what frees and enhances it – so you can protect and enhance your most valuable asset.
Discover how you can live a life of purpose, meaning, and contribution – so that you can move forward in a direction that makes your heart sing.
Learn how to enjoy money, wealth, and abundance without feelings of shame and guilt – so you can enjoy what you have and create more of it.
Please note:
Results may vary from person to person depending on background, experience, and application of the information learned.
REGISTER NOW and let's get you started!