---
---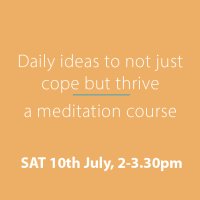 As Good As It Gets?
No it can be better than that!
Is your life like this? We put up with the boring, frustrating, depressing parts because we know there might be some good times too. That was one of the problems of the lockdown, there were not many good times. No holidays, get-togethers, nights out or days away. We cope though. We keep going until one day the good times are no more. We are left to brood over our regrets and disappointments, console ourselves with a few happy memories. Then we say, well that's life.
But Buddha says stop selling yourself short. Don't just cope, thrive!
By making a few simple changes in our views and attitudes we can make every day a meaningful day. Then we have no disappointment or regrets. We are moving forward, improving our human nature, our confidence and our happiness. The teacher will explain some essential insights and meditations which, if we take them to heart, will definitely put our life on an upward trend.