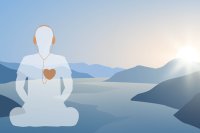 Ever had one of those days when everybody else has one ambition – to get seriously on your nerves? Or maybe it's nearly every day when certain people seem bent on making your life unpleasant? If not, you are fortunate indeed.
But we can make ourselves fortunate. That is this week's meditation challenge.
We can't get rid of everybody. Or often even just one person. We can't make them disappear physically but we can reduce our own ability to get annoyed or upset. 
We can eliminate their negative impact on our lives. 
If we don't like someone, we can change our mind. It's much easier. 
How? In five step-by-step meditations.
Meditation 1. Don't mistake your own feelings for reality
Meditation 2. Difficult people are just confused good people being difficult 
Meditation 3. Don't box yourself in 
Meditation 4. We have more in common than we think
Meditation 5. Stop your mind picking fights it can't win 

A link will be sent to your email address the night before each day's meditation so that you can begin your meditation the next morning at the time that suits you best, or at any time that day.The links will remain valid for five days. If you don't receive an email, please check your junk folder, as it may have landed there!