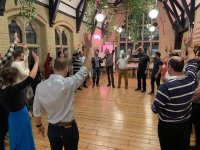 The Facilitator Labs, a safe space created by Tobias Mayer and Noel Warnell is intended for:

Experimenting with new facilitation and teaching methods
Seeking creative input on a workshop format
Rehearsing a newly learned technique
Testing the water with a willing audience before jumping into the deep, and sometimes hostile corporate waters
Collaborating with peers
Sharing a seed of an idea and getting quick feedback
Anyone who holds meetings, teaches, or facilitates groups is encouraged to join.
Format
Each lab will offer between 3-6 sessions, facilitated by whomever has a proposal. There is no fixed agenda and no fixed time box for the sessions. This will depend entirely on what proposals are brought to each event.
Tobias and Noel, whilst both experienced facilitators themselves, are there simply to prepare and hold the space for creativity to occur.
Proposals can be made in advance, or simply brought on the day. All participants are responsible for the learning, and each lab itself is an experiment, with our hypothesis being that the learning from each one will help to improve the series as a whole.
Participation
You can attend as a facilitator, or just a participant. Each role is equally valid. Through regular attendance at these labs both facilitators and participants will become more confident and skilled in their ability to facilitate groups, while building up their toolbox of new ideas from others with which to experiment further.
The core requirements, if they can be named as such, are a desire to learn, a willingness to fail and showing up with an open heart and an open mind.

"Faclabs has been beacon of light in my self facilitation & learning self development over the last 2 years." 
"If I was going to list one of my Top 5 discoveries during lockdown, this would be on my list! The sessions have given me more confidence to try out my ideas and pick up tips from my fellow facilitators for all types of online group activities from ice breakers to problem solving, to creative ideas for holding lessons learned/debrief sessions virtually"