---
---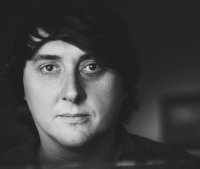 Boia Gigs favourite John Blek returns to St. Davids armed with three (yes three!) new records 'The Embers', which John never got to tour before Covid hit, Digressions #2 – Grounded, recorded during lockdown and On Ether & Air due for release 10th September 2021.
Much loved for his enthralling live shows full of humour, pathos and his impassioned musical delivery. A master storyteller and a stunning fingerstyle guitar player. A must-see act and a true artist.
After the fires of love, lust, life and revolution have burned out the embers are all that remain. 'The Embers' is the third album in John's 4 album 'Catharsis' project consisting of 9 visceral songs. Reflections and memories from a time after the affair.
Recorded at home in isolation during the COVID-19 pandemic. Grounded is Blek's effort to regain a sense of balance and purpose during this period of great uncertainty. It shows the artist drawing from a new well of sound, embracing synthesis, remote recording and electronic instruments for the first time.
On Ether & Air is the final part of Blek's Catharsis Project, a four album exploration into themes of the sea, the earth, the embers and the air. This new record is an examination of the simultaneous lightness and weight of the atmospheres surrounding us and the innate human longing for unbridled freedom.